Automate 2019 Preview
POSTED 03/21/2019
 | By: Tanya M. Anandan, Contributing Editor
Automation is no longer a question of when. It's how. How will automation impact your future? Your business? Your industry? Your workforce? Your career? Automate 2019 is where you get answers.
Whether you're looking for ideas or inspiration. Insights or the inside track. Connections or solutions. Experience or new perspectives. Or all of the above. There's only one event in North America that brings the array of automation technologies and expertise together in one place: Automate on April 8-11, 2019 at the McCormick Place in Chicago, Illinois.
he biennial event is hosted by the Association for Advancing Automation (A3), assembling the broadest overview of the entire automation industry. See it all at Automate.
Plus enter our "Apple-A-Day" Apple Watch Giveaway for your chance to win an Apple Watch! A3 will draw a winner each day of the show. Don't forget to register.
Just across the hall from the Automate show is ProMat, the material handling and logistics industry's largest biennial event. Your Automate badge gets you into both shows!
Learn
Automate kicks off on April 8 with the first of three Keynote Presentations on blockchain technology, the gender gap, and a self-made billionaire's keys to business success. Attendance is free to all show attendees.
Automate conference sessions will explore how automation secures a company's success in a technologically fast-paced world where artificial intelligence (AI), Industrial Internet of Things (IIoT), smart manufacturing, collaborative robots (cobots), machine vision and other innovations are rapidly shifting the dynamic of today's manufacturing. Industry professionals can also earn vision and motion control certifications by participating in tracks devoted to basic and advanced courses.
On the show floor, hear industry leaders share trends in workforce evolution, investment opportunities, innovation and automation standards during a series of presentations and panel discussions free to all show attendees.
Automation is Hiring! Automate will dedicate the last day of the show to jobs in automation. Attend theater sessions focused on working in automation, then connect with recruiters and exhibitors looking for new employees.
Network
Connect with automation experts from all over the world. Automate offers several networking opportunities to make the most of your time in Chicago. Grab a bite and beer at the Networking Party, or network with other young professionals at the NextGen Networking Meet-Up. Celebrate the winners of the industry's highest honor at the Engelberger Awards Dinner.
Explore
On the show floor explore over 500 exhibits, spanning everything from welding, assembly and machine tending robots, to mobile robots and the latest human-robot collaborative technologies. Innovations are helping people and machines collaborate like never before. Intuitive user interfaces and software advances are making robots and other automation easier to implement and use. AI, machine learning and advanced computer vision technologies allow robots and integrated systems to adapt to dynamic environments. Automation is enabling smart, connected factories ready for Industry 4.0.
Automation is more approachable, affordable and practical than ever. Here's a small sampling of what you will see and experience at Automate 2019.
Integrated Solutions for Truck Unloading, Machine Tending
A highlight of the show floor is the Integrated Solutions Center where systems integrators showcase live demos and interactive displays of robotics, vision and automation applications. Come and explore over 50 exhibits in just this section alone. We preview just a fraction here.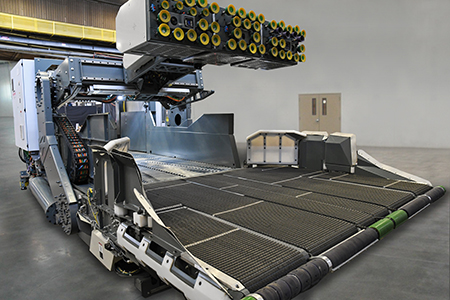 Honeywell Intelligrated, booth 7515, will display a new robotic solution for unloading trucks, trailers and shipping containers at general merchandise or parcel distribution centers. The fully automated unloader significantly reduces the manual effort required to operate the receiving dock. No operator is required. This helps warehouses and fulfillment centers improve workplace safety, reduce staffing challenges and minimize damage to packages. The robotic unloader is designed to work within existing fleets, eliminating the need for special configurations or modifications.
Booth visitors will see live demonstrations of the material handling robot performing a series of simulated unloading motions inside a transparent trailer. The robotic unloader uses a straddle arm to perform picking activities and set packages onto an articulated nose conveyor. In collaboration with Carnegie Mellon University's National Robotics Engineering Center (NREC), Honeywell Intelligrated is developing a next-generation robotic controls platform. The new platform uses advanced AI and machine learning to enable critical decision-making, intelligent motion, collision avoidance and real-time sensing in unpredictable warehousing environments.
You can also view live demonstrations of more Honeywell Intelligrated automated material handling and fulfillment solutions, including collaborations with Soft Robotics and Fetch Robotics, at ProMat in booth S-618a.
KC Robotics Inc., booth 7711, will introduce the Redline EZ-Load system, a user-friendly, compact, robust and economical machine tending solution aimed at helping manufacturers address the skilled worker shortage. At the heart of the machine tending system is KC Robotics' intuitive user interface and Yaskawa's collaborative robot technology.
In addition to showcasing their robotic welding expertise, KC Robotics will demonstrate a material removal system in partnership with 3M. From material removal and cutting, to arc welding and machine tending, Automate will provide a great opportunity to discover how KC Robotics leverages their expertise to find industrial application solutions ranging from fully automated to collaborative.
Robotic Laser Welding, Assembly Innovation
Lincoln Electric Company, booth 8101, will demonstrate pre-engineered robotic welding cells, a laser welding and cutting system, press automation, flexible automation and assembly systems. The Pro-Pak® H-Frame pre-engineered robotic welding cell is engineered for automotive suppliers to speed up production, reduce labor costs and downtime, and improve weld integrity and consistency. The Pro-Pak robotic welding cells have the latest technological improvements in robotic welding and position your operation for sustained progress, efficiency and profits.
Laser welding and cutting provide the speed, accuracy, low heat input and high energy efficiency required in today's metal fabrication industry. The Flex Lase®, a self-contained robot-based system, is a sound production solution to achieve all types of laser processing applications. For stamping challenges, fab shops want to increase press capabilities. See firsthand a Wayne Trail Press Automation system that provides higher throughput, better quality and safer handling, taking user ergonomics into account.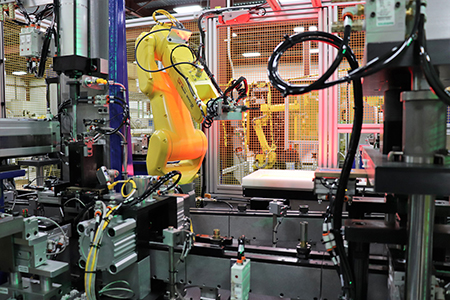 In booth 7911, Coldwater Machine, a Lincoln Electric Company, will showcase forming and joining technologies to streamline manufacturing processes for a variety of industries, plus precision machining services for tight tolerance applications.
Edgewater Automation, booth 7707, will have hands-on demonstrations of collaborative robots, high-speed SCARA robots, and PLC Motion Control from FANUC America. Edgewater is a FANUC Authorized System Integrator (ASI) and also integrates many other leading robot manufacturers. Engineering and equipment assembly take place at the integrator's headquarters in Saint Joseph, Michigan and in Spartanburg, South Carolina. A sales office was recently opened in Sacramento, California. Markets served include energy, life science, transportation, consumer products and electronics. As a member of the Manders Group, Edgewater installs and supports automation systems worldwide.
Edgewater's featured application is one of the finalists for FANUC America's ASI Innovative System of the Year 2019. Watch snippets of all the finalists' systems. Go hands-on with more robotic applications in the Integrated Solutions Center at Automate!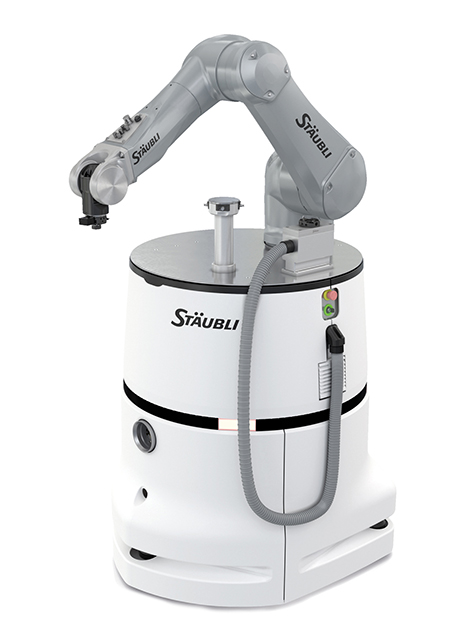 Human-Machine Interaction for Smart, Flexible Manufacturing
Stäubli, booth 7150, will unveil products to the North American market including its new line of TS2 SCARA robots and HelMo, Stäubli's mobile robot system. A smart production line will showcase how connected robotic solutions can collaborate with humans in an Industry 4.0 setting. Industry 4.0, the integration of digital technologies and automated processes, is transforming production for industrial players, accelerating the convergence of the virtual and real worlds.
The new TS2 SCARA is a completely redesigned four-axis machine that offers incredible flexibility for the production line and features a fully encapsulated design, compact footprint and ultra-short cycle times with a high degree of repeatability. The robots also can be modified for sensitive environments to deliver hygienic and safe solutions for the food, medical and pharmaceutical markets.
Also making its North American debut is Stäubli's HelMo mobile robot system, which is capable of navigating with complete autonomy by continuously monitoring its environment with three integrated laser scanners. This automated guided vehicle (AGV) features a Stäubli six-axis TX2-90L collaborative robot, which allows HelMo to work alongside employees at any stage of the process. Stäubli Electrical Connectors, one of the world's leading manufacturers of electrical connectors, has been using HelMo in its own factory production to handle spikes in demand and to offset unforeseen absences among its human workforce. Watch Stäubli's HelMo on the job. See it in person at Automate!
Omron Automation, booth 8737, will feature its multifaceted Factory Harmony exhibit. This series of demos is designed to give a broad overview of the company's diverse solution portfolio including traceability, flexible manufacturing and human-machine interaction. Omron will present a vision of the manufacturing floor of the future, showcasing ways in which humans and machines can collaborate more effectively on the factory floor. The Factory Harmony exhibit will include a fully integrated vision-guided robotics pick-and-place demo, a traceability demo with laser-marking technology that enables customization, a safety demo, and real-world applications of Omron's mobile robots and its new TM Series collaborative robot.
The flexible manufacturing solutions on display are designed to help manufacturers meet growing demands for customization without the need to completely reconfigure their production lines. The Factory Harmony exhibit demonstrates a new standard for human-machine collaboration to help manufacturers enjoy cumulative improvements in productivity, efficiency, quality and worker satisfaction.
Easier Robot Control and Programming
Sisu, booth 9358, will introduce the robotic system integrator's new robot programming technology, VUDU, which requires no robot programming experience. VUDU's visual programming interface and unique handheld controller make programming faster and easier than ever. Program your robot in minutes, not hours. VUDU eliminates the need for an experienced robot programmer and expensive offline programming software. VUDU is fast and intuitive. By using the VUDU motion controller, your movements are seamlessly transmitted to the robot in all six degrees of freedom. VUDU works on robots of all sizes and speeds. Whether your robot requires the raw strength to lift a car, or precise control to assemble electronics, VUDU will scale to your needs. Watch a quick teaser. Then take VUDU for a test drive at Automate!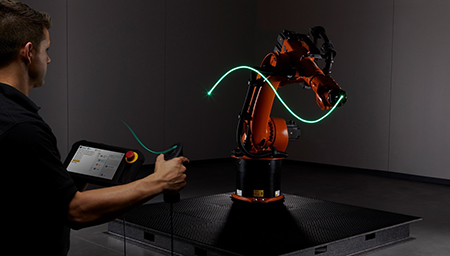 Sisu leverages its experience in mechanical, electrical, software, and manufacturing engineering to create low-volume, high-value solutions for customers. They provide fully integrated solutions, from the software running on the embedded controller to the tip of the end effector. Systems are manufactured in-house and customized to your needs.
READY Robotics, booth 7571, will debut the Forge Suite of products to help industrial robot users take control of their factory automation without programming experience or lengthy training. Tired of different interfaces for different robot brands? With the Forge Suite of products, it's intuitive to control collaborative or traditional industrial robot brands whether creating palletizing, machine load/unload, grinding, finishing, or light assembly tasks.
Forge/OS allows users to quickly create sophisticated robot programs by chaining together task building blocks into complete work flowcharts without previous robotic programming experience or training. Simply use a touchscreen to control not only the robot, but also a wide variety of connected peripherals like grippers, sensors and pneumatic devices. You can even control machine tools using pneumatics or PLC.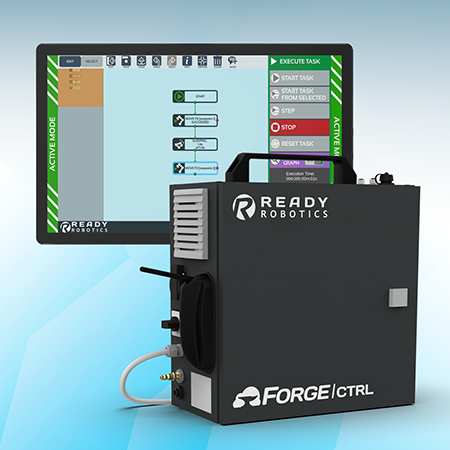 Now with Forge/Ctrl, you can control FANUC robots and Universal Robots collaborative robots with one intuitive interface. Effortlessly attach peripherals, integrate sensors and communicate with machines. With a small form factor that fits in a variety of mounting locations, and IP54 rated to withstand heavy industrial environments, Forge/Ctrl can expand your robot's capabilities with add-on modules, and it runs Forge/OS software. Support for Yaskawa, KUKA, ABB and DENSO robots launches in late 2019. Let Forge/Ctrl be the brain of your automation workflow. It's more than easy, it's intuitive.
READY Robotics' Forge Suite of products are available for both purchase and rental, just one example of the new Robots as a Service trend we covered in Robots for Rent – Why RaaS Works.
Cobots' Ease and Versatility
Doosan Robotics, booth 6573, will present collaborative robots in diverse industrial applications, most notably, a Smart Automotive Factory Simulation with an actual vehicle showcasing live simulation of two operators and six collaborative robots working together. Launched in 2014 by a large Korean conglomerate that has been listed on the Fortune Global 500 list, this collaborative robot maker is gaining presence in the market for its robust hardware and intuitive user interface. Doosan Robotics' M Series has a four-model lineup, ranging from 900 to 1,700 mm work reach and 6 to 15 kg payload. Torque sensors built into each one of its six joints help the robot avoid collisions and allow Doosan robots to perform more dexterous tasks in the field.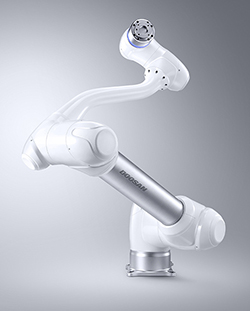 In the 'Easy to Use' section of the booth, visitors can experience Doosan's ultra-intuitive user experience, which enables novice users to teach the advanced robot without knowing complicated script programming. Explore Doosan's cobot solution to help improve your manufacturing competitiveness.
AUBO Robotics, booth 7972, will reveal three new six-axis collaborative robots in 3 kg, 7 kg and 10 kg payloads, rounding out the AUBO product line. AUBO Robotics' four models have a small footprint and lightweight design. This versatility makes them ideal for mounting on the floor, ceiling, or even a wall, saving valuable floor space. Watch these inverted AUBO robots working alongside their human coworkers.
Robotic automation is now a possibility for companies of any size. The fast return on investment, quick deployment, and easy-to-use and versatile automation solutions increase flexibility, lower cost and accelerate innovation. AUBO robots feature a rich, user-friendly setup and hand-guide-to-teach motion planning, which makes them easy to implement without programming skills and ideal for most high-mix or small batch applications. Manufacturers gain a competitive advantage while removing dangerous and repetitive tasks performed by today's workers.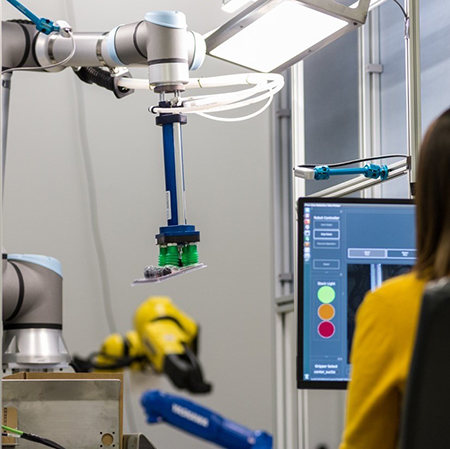 AI, Machine Learning and Cloud Robotics
Plus One Robotics, booth 9547, is where Robots work. People Rule. CEO and Cofounder Erik Nieves says there will be no robot uprising, because Plus One keeps robots in their place by putting people in charge! Collaborative robotics takes on a whole new meaning – it's not just about safety – it's about enabling robots to handle ever-changing workflows. Plus One created a software platform that is able to digitally link a human "Crew Chief" to a fleet of warehouse robots, giving the robots the intelligence of a human on-demand, while the Crew Chief enjoys the productivity and endurance of a crew of automated workers.
Try your hand as a Plus One Crew Chief: The booth demo will incorporate a dynamic vision-guided tote transfer application in which mixed items are sensed in 3D using our PickOne perception software, then grasped and placed into a box for pack-out. Whenever an unknown item is encountered, Plus One's software instantly puts the Crew Chief in charge via a secure web application. The Crew Chief can then see what the robot is seeing, and command the robot's next pick with the touch of a mouse. The data from this process is also used to train an AI system, making the robot more accurate over time. Watch the PickOne software in action.
XYZ Robotics, booth 9366, will showcase autonomous robotic solutions for put wall sorting, goods-to-person picking and sorter induction. The put wall system sorts items at 600-plus units/hour in a small footprint, while the goods-to-person picking and induction systems can reach 1500 units/hour.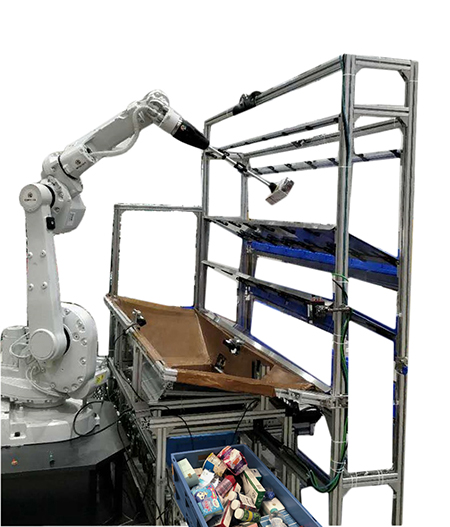 As a standalone product, XYZ's hand-eye coordination software is easy to integrate, does not require prior training of target SKUs, and adapts to customers' SKU distribution so the performance improves continuously. XYZ's custom end-of-arm tooling (EOAT) design further raises the speed, robustness and range of items that can be handled.
Tend.ai, booth 8801, will demonstrate in real-time, their robot-agnostic Predictive Maintenance, Remote Monitoring and Alerting software app using both FANUC and Kawasaki robots. Booth visitors can watch a Kawasaki robot assemble a PCB board, a FANUC robot armed with computer vision retrieve a candy, and another robot etch a screwdriver with the visitor's name. Tend's software will display real-time performance data for all these robots on large monitors and report alerts when the robot cell is stopped for any reason. Using Tend, customers can identify chronic performance issues and predict failures before they happen to reduce robot cell downtime by 50 percent or more. Watch Tend in action and learn more at Automate!
Keep up with the latest product reveals in Exhibitor News and register for your pass to North America's broadest automation showcase.
Learn. Network. Explore. Get Certified. Get a jump on the future at Automate 2019.