Automate 2017 in Chicago, Your Destination for North America's Automation Showcase
POSTED 02/23/2017
 | By: Tanya M. Anandan, Contributing Editor
Automate is back! Bigger and better than ever. North America's largest expo devoted to automation technology and innovation returns to Chicago on April 3-6, 2017, at McCormick Place North. This biennial event is now over 40 percent larger with 400 exhibitors occupying 115,000 square feet of exhibit space. Over 20,000 attendees from across the U.S. and 70 countries will converge for this one-of-a-kind technology showcase, networking event, and educational forum not to be missed. Automate 2017 is all about automation, all the time.
Your hosts, the Association for Advancing Automation (A3) and its trade associations, the Robotic Industries Association (RIA), AIA – the global association for vision and imaging, and the Motion Control & Motor Association (MCMA), have planned a dynamic event collocated with ProMat, North America's largest expo for manufacturing and supply chain professionals. One badge gets you into both shows.
All Automation, All the Time, Only One Place
Catherine Morris, Director of Automotive Sales at ATI Industrial Automation and Chair of the Automate show committee, encourages everyone to make plans now to attend the show.
"This is truly the one show you cannot afford to miss," she says. "Automate showcases the full spectrum of automation technologies and solutions. If you are looking for automation solutions for any application challenge, you will find them at this show!"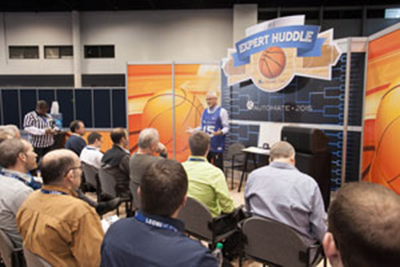 Morris says the Automate Conference is a stand-out event where companies get practical guidance on how to successfully apply automation. The Expert Huddles are a great opportunity for attendees to discuss specific topics of interest with industry experts right on the show floor.
"Most of all, I always look forward to meeting the attendees that are new to automation," says Morris. "Seeing them excited about the possibilities of becoming more competitive and productive is what our business is all about."
Learn, Collaborate, Explore
The Automate 2017 Conference will explore the future of automation with more than 60 educational sessions spanning five days. Topics range from fundamentals in robotics, machine vision, motion control, and safety, to the latest innovations in supply chain automation, Industrial Internet of Things (IIoT), machine learning, and workforce development. We'll also feature a two-day Collaborative Robots Track focused on the hot topic of human-robot collaboration. Check out the Conference Agenda and register to reserve your spot.
Taking place concurrently is the 48th International Symposium on Robotics (ISR), the world's oldest international robotics conference. This prestigious event brings together thought leaders from around the globe to discuss the latest applications and research in robotics and automation technology. The ISR–Americas will be fully integrated into the Automate Conference sessions, allowing all attendees to experience this unique educational opportunity.
Automate 2017 will also play host to international contingents from China and South Korea. For many of these companies this is their first time exhibiting in North America. They represent a cross-section of robot manufacturers, robotics technology developers, Internet of Things solution providers, and several suppliers of motors, bearings, and gears. Returning this year is the Ontario Pavilion, where several of our Canadian neighbors including RIA members Tech-Con Automation and Clearpath Robotics will exhibit in collaboration with the Government of Ontario (MCIIT).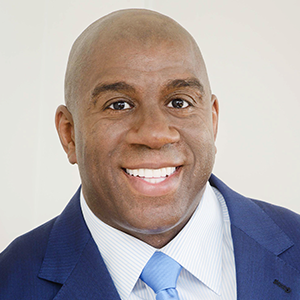 Learn about supply chain sustainability and how to improve customer engagement by attending the Keynote Presentations by Andrew Winston, author of Green to Gold, Markus Lorenz of Boston Consulting Group, and Earvin "Magic" Johnson, Chairman and CEO of Magic Johnson Enterprises. Listen in as the NBA legend and entrepreneur reveals the secrets to his business and personal success. Check the agenda for dates and times.
Connect and Reconnect
Make new connections and strengthen old ones at the World of Automation Networking Party on April 4. Sponsored by Güdel Inc. and LEONI, this international-themed event features an evening of entertainment and food from around the globe. To enjoy it, you only have to go as far as the show floor.
Don't miss the Joseph F. Engelberger Robotics Awards Dinner on April 5 at the Adler Planetarium. The Engelberger Robotics Award is the world's most prestigious robotics honor. This year, awards will be presented for excellence in leadership and education. Enjoy an evening of fine dining "under the stars" while we celebrate the rock stars of robotics.
Top Startups to Watch
Co-produced with Silicon Valley Robotics and sponsored by GE, the Automate Launch Pad Startup Competition returns this year with eight startups vying for the top spot. The pitch session takes place April 5. Startups will have three minutes to present their technology to a panel of investors and automation experts. The winner walks away with the $10,000 grand prize and leaves a lasting impression with potential investors.
Grabbing the attention of key industry players early in the game can be pivotal for the right company. Take it from our 2015 winner, Soft Robotics Inc., a startup success story.
"Automate 2015 was a critical turning point for Soft Robotics," says CEO Carl Vause. "At the time, the company was less than two years old, focused on developing a completely new line of end-of-arm tooling. We exhibited in the startup section of the exhibit hall and participated in the Launch Pad Startup Competition. Automate provided a chance for industry leaders, partners, and potential customers to interact with our technology and was the best opportunity for us to teach the market about our company. We were honored to win the competition as a bonus to a fantastic week.
"This year Soft Robotics returns to Automate on the main exhibit floor (booth 2244). We will be featuring two robotic demonstration cells and our new product launches for 2017," says Vause. "I can't emphasize enough how important A3 and Automate are to the industry, and I advise every robotic startup to join us in Chicago for the most impactful week of the year."
Certified Integrators, Innovative Solutions
Making a big impact as you enter the Automate 2017 show floor is the Integrated Solutions Center, where over 65 system integrators will showcase live-action demonstrations of automation solutions. This section has doubled in size since the 2015 show.
A dozen of those integrators represent the best of the best, the RIA Certified Robot Integrators, who have completed a rigorous compliance program to ascertain their high level of expertise. Several of the exhibiting RIA Certified Robot Integrators are highlighted in this show preview.
Matrix Design LLC, booth 1612, will feature a live demo of a robotic dual machine tending system and robotic deburring system (pictured). The machine tending system includes three fully integrated robot arms inside Matrix's fully welded and enclosed flexMate™ and stackMate™ workcells. Each workcell houses several features and functions that enable all three robots to work seamlessly together. Both robotic systems are designed to help manufacturers boost productivity, improve quality, and decrease costs, while improving safety and the working environment. Catch a video preview here.
Applied Manufacturing Technologies (AMT), booth 1813, will feature a dual robotic demo comparing the functionalities of a force-controlled collaborative robot side by side with a sensor-controlled robot. The FANUC CR-7 robot will demonstrate how this family of collaborative robots uses force feedback sensors to detect an unexpected interaction, allowing a safe collaborative working environment between robot and direct user. In comparison, AMT will use the high-speed capability of a FANUC LR Mate in conjunction with sensor controls to create a safe work area between robot and human. The sensor controls will detect intrusion in the robot workspace and modify the robot speed and functionality when human interaction is detected. The demo will showcase both technologies interacting with attendees live on the show floor.
3D Metal Printing with Robots
Midwest Engineered Systems Inc. (MWES), booth 1407, will showcase a variety of equipment demonstrations, including its new 3D Additive System, a robot-tended brake press, and an automatic guided cart assembly system. For the first time at Automate, MWES will display its 3D Metal Printing Additive System (pictured) featuring KUKA robots. The system demonstrates how manufacturers can optimize prototype part manufacturing and/or low-volume part manufacturing with fast speeds, high efficiency, and lower costs than conventional methods.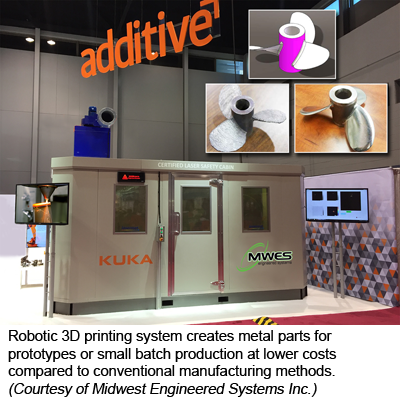 Also on display will be a Safan Darley Brake Press with robotic material handling similar to the one seen in this video. The MWES booth will also feature a Jervis Webb SmartCart®, a low-profile assembly platform with scissor lift and 2,500-pound capacity. This ergonomic assembly vehicle can be customized to the operator's needs with preprogrammed height preferences.

Lights-Out Production
Factory Automation Systems Inc., booth 2414, will showcase a robotic machine tending cell that not only loads and unloads parts to and from the machine, but also automatically changes the chuck jaws for different size parts. Featured will be a collaborative robot with automatic tool changing. This concept is extremely useful for lights-out applications, eliminating the need for manual labor that is normally required to perform the jaw change operations. The live demo will also show the robot performing secondary operations such as deburring and inspection.
Tech-Con Automation, booth 2047, which was the first RIA Certified Robot Integrator in Canada, is exhibiting at Automate alongside several other Ontario-based automation companies as part of the Government of Ontario Pavilion. Tech-Con will showcase a live demo of a Fanuc M-1iA robot using advanced vision capabilities to pick and sort pills of different colors before placing them in bottles, as demonstrated in this video.
Modular Robotic Platforms
Calvary Robotics, booth 1416, will feature its modular robotic platforms for automated assembly and feeding. The X-Cell integrates proven automation components into a highly flexible and versatile assembly system based on an X, Y, and Z axis. It accommodates a large number of processes including screw driving, dispensing, and vision inspection. Easily configurable, prompt-based software reduces the need for complex programming.
The X-Cell II platform (pictured) is based on a six-axis robot, and it also features simple and intuitive system controls for ease of programming. The system can be validated at the process development stage and then scaled into production, thereby reducing costs and time to market.
Calvary's FleX Feed System is a robotic module that uses vision guided robots for part feeding and sorting. Multiple part variants can be singulated, sorted, and oriented from a single feeder with little or no hard tooling. The dedicated vision system within each module provides assurance that the product assembly is correct each and every time.
IIoT, Connected Solutions on Deck
Genesis Systems Group LLC, booth 1609, will honor our host city and its World Series Champions with a baseball-themed display. Live on the show floor, a FANUC material handling robot equipped with tool changers and 3D printed grippers will hand out trademark Genesis baseballs to attendees and assemble a 3D printed replica of the World Series trophy. A nearby robot with another 3D printed gripper produced by the RIA Certified Robot Integrator's in-house capabilities will facilitate a video display showing a variety of automation processes.
Genesis will also showcase weld analysis capabilities focusing on design for manufacturability (DFM) and design for assembly (DFA). Also featured will be Genesis' Connected Solutions for the Industrial Internet of Things, or IIoT. The Genesis intelligenceCENTER™ will be demonstrated along with Squeaks, a mobile-first industrial messaging app. Squeaks integrates messaging across machines and personnel, and is designed to facilitate quicker and better decision-making with machines as part of the conversation.
Automated Order Fulfillment
Intelligrated, booth 1616, will showcase a two-level AS/RS shuttle system, a vertical lift, and robotic each picking capabilities. The shuttle system and vertical lift (pictured) move inventory-laden totes from storage into position for picking, in a complete automated loop. Using vision technology and specially designed end-of-arm tooling, the robotic solution identifies and handles individual items, picking and placing them from one tote to the next. The fully automated each picking solution helps retail and e-commerce operations overcome labor availability and turnover challenges in repetitive warehouse positions. It offers the flexibility and accuracy necessary to handle high volumes of individual orders, allowing operations to adapt to changing order profiles and manage SKU proliferation while redeploying labor to more value-added tasks.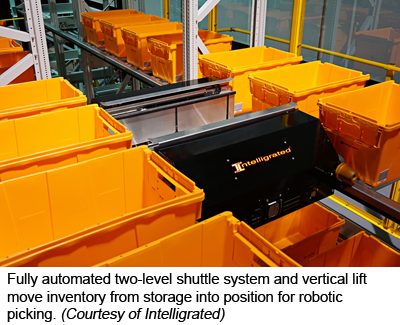 Automate 2017 will host all the latest automation innovations, from collaborative and mobile robotics, to advanced sensors, Industry 4.0 solutions, and even augmented reality. Take a look!
Mobile Robots
Aethon Inc., booth 1250, will showcase its newest line of autonomous mobile robots used by manufacturers to automate intralogistics. The omnidirectional TUG robot allows manufacturers to connect islands of automation, reduce the cost and waste associated with material movement, and support Industry 4.0 initiatives. Aethon's mobile robot boasts a lengthy résumé, having made over 2.5 million deliveries and traveled in excess of 20 million miles in commercial settings around the world.
The TUG robot automatically picks up and drops off carts weighing as much as 1,400 pounds and navigates the facility without the need for added infrastructure. It works among people and can navigate unexpected obstacles while traveling. Enabling technology allows the robots to open doors, respond to alarm conditions, and ride elevators if needed. The robots are continuously monitored 24/7/365 by a connected cloud command center.
Aethon will also showcase new software tools that allow engineering staff to manage their fleet of mobile robots in house. Watch the TUG robot in action and see a live demo at Automate.
Mobile Industrial Robots (MiR), booth 1468, will showcase the MiR100 mobile autonomous robot. Proven in production environments around the world, the MiR100 is a highly flexible, safe, and cost-effective manufacturing logistics solution that can transport up to 100 kg on customizable top modules. The MiR100 will be shown with an optional top module and with the MiR Hook, which allows it to tow a cart up to 300 kg. The MiR100's highly intuitive, web-based interface allows customers with no programming experience to have the robot up and running within hours, and to control it with a smartphone.
RIA took a closer look at mobile robots, including the MiR robot, in our article Mobile Robots and Intralogistics the Always-On Supply Chain.
MiR will also announce an exciting new product for industrial manufacturing and demonstrate it on site at Automate.
Linear Tracks and Gantry Robots
Güdel Inc., booth 1455, will feature its TrackMotion Overhead (TMO) module with a FANUC M-20iA/35M robot on board (pictured). The TMO saves floor space and extends the robot work envelope for material handling, machine tending, and welding. Whether TMOs are elevated, wall- or ceiling-mounted, watch the different ways linear tracks can optimize your robot investment.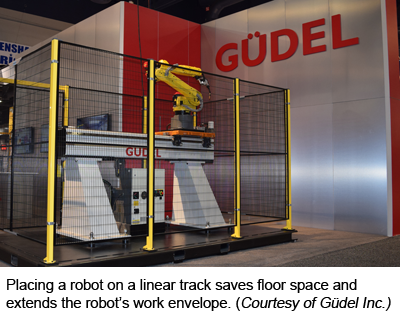 Also featured will be the TrackMotion Vertical (TMV) carrying a Yaskawa Motoman MA2010. Don't miss this high-speed 11-foot vertical lift demo. Also check out the Multi-Axis Gantry (ZP-3) featuring FANUC's Power Motion i-MODEL A motion controller, a powerful motion and CNC control that complements Güdel's ZP-3 gantry.
You can also find Güdel in booth 359, where the precision components that are the basis of its reliable automation units will be on display. Many of these components are available to machine builders for use in their own designs, giving them the Güdel advantage of components designed and manufactured with Swiss quality for durability and reliability.
Tools for Deburring, Quick Changes, Sensing
ATI Industrial Automation, booth 1621, will feature several large robotic demonstrations in addition to new deburring tools, lightweight tool changers, modular tool stands, and a new force/torque sensor. ATI's new RC-900 and RC-1040 Radially-Compliant Deburring Tools feature the same air-actuated compliance as existing models, but offer a motor that is 50 percent more powerful.
The new QC-46 Tool Changer is extremely lightweight, only 2.98 kg, and has a very low stack height of 66.3 mm. ATI's new Modular Tool Stands maximize flexibility with ATI's wide range of Robotic Tool Changer models.
The new Axia80 Force/Torque Sensor is a lower-cost sensing solution that maintains the quality and accuracy found in all of ATI's Force/Torque Sensor products. All the electronics are built into the transducer body which keeps the cost down and footprint smaller, while excelling in accuracy, resolution, and robustness. Get the full scoop on ATI's new products at Automate.
Cobots, Sensors, Augmented Reality
Universal Robots USA Inc., booth 1245, will showcase a wide range of new applications for its pioneering UR collaborative robots, including live demos in augmented reality and force/torque sensing. Automate will be the launch pad for ATI's new Axia80 multi-axis force/torque sensor embedded with a UR5 robot (pictured) in an interactive booth demo where attendees will be able to move a workpiece that will force the cobot to adjust its path while it maintains a constant force.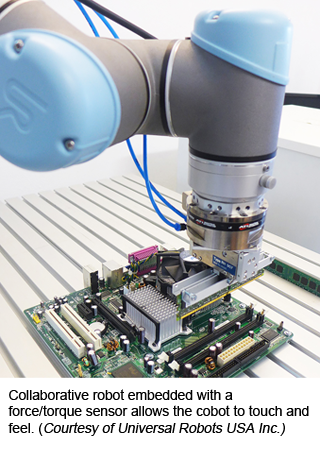 Unlike load cells, which only operate on a single axis and measure only push, the Axia80 senses torque and side loads along all six axes. A UR robot doing assembly with force control will make decisions based on that force feedback and change its motion to get the assembly accomplished, changing path with the environment instead of following a preprogrammed path. ATI's new force/torque sensor will be included in the Universal Robots+ online showroom featuring a wide selection of end effectors, software, and accessories designed to work flawlessly with UR robots.
"It's similar to a handshake," says ATI's CEO, Robert Little. "The force/torque sensor measures the touch and feel and gives life to robots. Universal Robots' UR+ platform will allow ATI to fully integrate our force/torque sensors with their robots, making it very easy for customers to program force-guided applications."
Several other Universal Robots+ solutions will also be showcased in the cobot maker's booth.
Augmented reality will also play nice with robots at Automate 2017. In collaboration with Kubica Corp., a Preferred Systems Integrator of UR robots, the cobot maker will showcase a UR10 robot assembling a door panel assisted by Light Guide Systems (LGS) from OPS Solutions LLC, an augmented reality tool that is transforming manual assembly and manufacturing processes. By projecting a digital operating "canvas" directly onto the workspace, LGS combines the best of human intelligence and automation technology to direct the robot and the operator through the required assembly tasks.
Rethink Robotics Inc., booth 1450, will showcase its Sawyer collaborative robot with Intera 5. Much more than the latest version of Rethink's software, Intera 5 is a new way to approach automation that allows manufacturers to control the robots, orchestrate the workcell, and collect data. Intera 5 allows Rethink's customers to integrate their robots even faster, and it exposes more advanced features such as force behaviors and vision in an easy-to-use interface. See Intera 5 in action.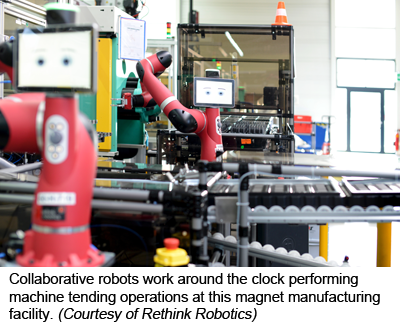 German magnet manufacturer MS-Schramberg is leveraging Sawyer with Intera 5 to substantially improve deployment time of six robots. Working in teams of two robots on three machines, one robot selects parts from a series of patterns and loads the part into the machine, while the second robot removes the part from the machine and loads the part into a tray (pictured).
With less than a day of training, an MS-Schramberg engineer is able to deploy and train the robots in just over an hour. The robots run 24 hours a day, six days a week, and can easily configure complex logic tasks, minimizing the need for human interaction and freeing up employees for more complex tasks. Watch a team of collaborative robots working alongside MS-Schramberg's employees and go hands on with Sawyer at Automate.
New Collaborative Robots
Stäubli North America, booth 1240, will unveil the full capacity of its new TX2 series of collaborative robots to the North American market. Celebrating its 125-year anniversary, Stäubli will simulate a highly realistic Smart Factory in which different TX2 robot models in multiple interlinked cells will prove their Industry 4.0 compatibility, as well as their collaborative skills. With the launch of the TX2 series and CS9 controller, Stäubli has opened a new chapter in "Man-Robot Collaboration or MRC."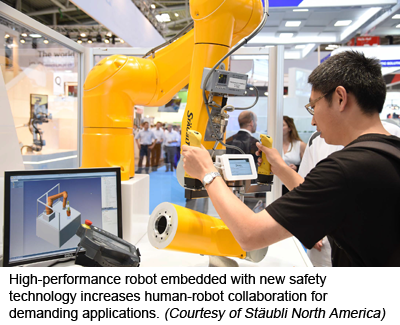 Stäubli's Robotics Division Manager Sebastien Schmitt says the company opted to use standard models for Man-Robot Collaboration: "With the TX2 six-axis robots, we can facilitate different levels of Man-Robot Collaboration. At the same time, the outstanding performance of these machines in terms of precision, availability, and speed means that they remain the first choice for all conceivable industrial applications that are subject to the most exacting cycle time criteria."
The new six-axis TX2 series has an enclosed structure certified to protection class IP65 and IP67. This waterproof design makes them ideal for use where stringent cleanroom and hygiene conditions are in force and for applications in harsh or sensitive environments.
Stäubli will also debut its new MPS tool changer, which enhances the productivity of automated production lines, and will showcase the innovative solutions and proprietary technology that make it a global leader for fluid and electrical connectors.
As April draws near, keep up to date on the technologies RIA members will be unveiling at Automate by checking the RIA News section frequently.
Whatever your automation interests may be, Automate 2017 is the place to see and be seen. Check out the full list of Automate Exhibitors and register today to join your fellow attendees in Chicago. North America's automation showcase returns for one week only. Don't miss it!