The History of Industrial Automation in Manufacturing
POSTED 05/24/2018
 | By: Fabrice Boisset, GM, Europe, Middle East, Africa Region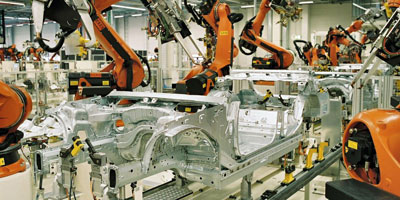 Automation in the manufacturing industry has evolved from the use of basic hydraulic and pneumatic systems to today's modern robots. Most industrial operations are automated with the goal of boosting production and reducing the cost of labor. Since its inception, industrial automation has made great advances among activities that were previously carried out manually. A manufacturing organization that uses the latest technologies to fully automate its processes typically sees improved efficiency, production of high-quality products and reduced labor and production costs.
The early years of automation
In 1913, Ford Motor Company introduced a car production assembly line which is considered one of the pioneer types of automation in the manufacturing industry. Before then, a car was built by a team of skilled and unskilled workers. Production automation improved Ford's production rates and increased its profits. The assembly line and mass car production were the first of their kind globally. It reduced the car assembly time from 12 hours per car to about one and a half hours per car.
Advancement of automation in the 20th century
During the 1930s, Japan was a leader in developing components that facilitated industrial manufacturing automation. One company developed the first micro-switch, protective relays, and a highly accurate electrical timer. By this time, the rest of the world had started appreciating automation and significant research and development had occurred, like the solid-state proximity switch. Between 1939 and 1945 during the Second World War, automation was highly used in fighter airplanes, landing crafts, warships, and tanks.
Japan surrendered to the US and allied forces in 1945 and an industrial rebuilding program was initiated. The program relied on new and superior technologies as opposed to the old-fashioned manufacturing methods that were being used by the rest of the world. Hence, Japan became the world leader in industrial automation. Automobile companies like Honda, Toyota, and Nissan could produce numerous high quality and reliable cars. They offered standard features that were classified as extras by other car manufacturers as well as competitive prices that triggered the success of Japan's automobile industry.
The current state of industrial automation in the manufacturing industry
The current industrial robots feature high-quality computing capabilities, improved operational degrees of freedom, and vision systems. However, they can only operate in highly structured environments and still require a certain level of human intervention. Moreover, they are quite inflexible and highly-specialized for use in small and medium-sized industries, so industrial automation is usually better suited to large manufacturers and long production runs. Automation in the manufacturing industry relies on computer and software capabilities to automate, integrate and optimize different components of manufacturing systems. As a result, it is also referred to as computer integrated manufacturing.
Thanks to the inception and evolution of industrial automation in manufacturing industries, the world enjoys high-quality products and better energy, resource, and raw materials utilization. Contrary to what most people believe, the manufacturing industry is set to create more jobs with the use of robots, which will continue to drive the operations and benefits of industrial automation.