Modern Manufacturing: Automation On The Factory Floor
POSTED 08/31/2018
 | By: Sean Balogh
In the era of Industry 4.0, automation has been one of the most effective apparatuses driving efficiency for manufacturers. Leveraging automation and advanced technologies, like robotics and ERP solutions, are enabling even greater gains in productivity to be made each day.
Modern Manufacturing
Modern manufacturing's goals can be summarized as an attempt to achieve sustained growth and earnings through building customer loyalty, creating high-value products, and weathering disruption in very dynamic global markets. These are not easy components to juggle all at once. That's why a basic understanding of the most impactful and accessible aspects of automation currently in use is so important.
Industry 1.0 to Industry 4.0
To talk about automation and modern manufacturing. It's important to understand how the concepts and practical applications of automation have evolved over time.
Industry 1.0 introduced mechanization. Also known as the first industrial revolution, Industry 1.0 consisted of water-, steam-, and fossil fuel-powered systems that replaced animal power with machine power.
Industry 2.0 introduced mass production. The second Industrial revolution saw the arrival of Aviation, Radio, and Assembly-line manufacturing, with electricity powering it all.
Industry 3.0 introduced digitization. Industry 3.0 was a massive accomplishment in how productivity was achieved. This was due largely to the invention and adoption of such technologies as computers, the internet, and Information Technology. These tools provided the framework required for modern automation, mass production, and robotics.
Industry 4.0, where we are now, features cyber-physical systems (CPS) in the manufacturing environment. These systems consist of machines, their computer-controlled protocols, and their users working together in unison.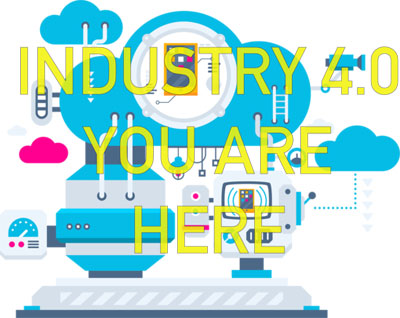 Keep in mind that Industry 5.0 is not far off and modern manufacturers can expect exciting new technologies and process improvements to emerge in the coming years.
Connectivity With The IoT And IIoT
The Internet of Things (IoT) is a network of connected devices that communicate data to a central system that makes sense of it all.
This network consists of an enterprise's connected edge devices, terminals, and input/output points. The data captured through this network provides an understanding of what is successful and what is not in terms of operations and processes.
The Industrial Internet of Things (IIoT) puts a focus on this interconnectivity and data provided by the terminals, sensors, and other systems on the factory floor.
These data-fueled factories become "intelligent" environments, which are capable of informing enterprises from the top down. They provide visibility regarding the efficiency of factory processes and performance both in real-time and over time. In short, the data enables manufacturers to refine and improve operations with relevant and up-to-date data.
Types of Automation On The Factory Floor
Automation can be thought of as the mechanization of processes in such a way that procedures can be followed and products can be created without human involvement.
There are several types of automation used on the factory floor. The type of automation utilized by a manufacturing operation will be implemented considering the products being produced, the machines required, and the resources available.
In the case of industrial automation, control systems, like computers or robots, and information technologies are utilized to handle different processes and pieces of machinery to complete a task. It can be applied most readily to data collection, data processing, and performing predictable physical work. This includes tasks like welding, soldering, painting, food prep, packaging.
Fixed (Hard) Automation
In this example, the application is usually simple and will involve a process or assembly that is dictated by programmed commands. It is relatively difficult to accommodate changes in the product design in a fixed automation process, which is set up with one purpose or process per application in mind.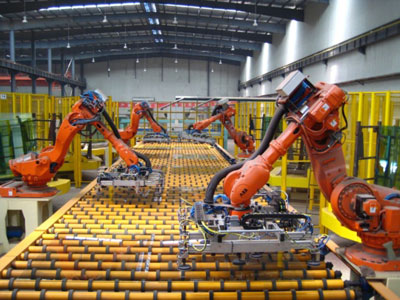 Examples include:
Mechanized assembly
Machining transfer lines
Automated material handling
Advantages:
High initial investment for custom-engineered equipment
High production rates
Relatively inflexible in accommodating product variety
Low unit cost
Disadvantages:
High vulnerability to failure
Obsolescence
Programmable Automation
Programmable automation is used most often when manufacturing products in batches. It allows for customization and frequent changes throughout the manufacturing process. In this case, the operation is controlled by a program of instructions that are read and interpreted by the system. New programs can be prepared and entered into the hardware to produce new products at any time.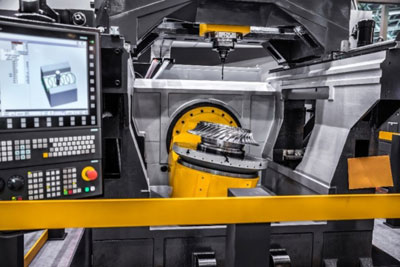 Examples include:
Computer Numerical controlled (CNC) machine tools
Industrial robots
Programmable logic controllers (PLC)
Advantages:
Flexible and able to deal with design variations
Suitable for batch production
Disadvantages:
High investment in general purpose equipment
Lower production rate than fixed automation
Flexible (Soft) Automation
Utilizing multiple tools that are linked by a material handling system, A flexible automation system is capable of producing a variety of parts with virtually no time lost for changeovers from any one part style to the next. The same is true when reprogramming the system or altering the physical set up.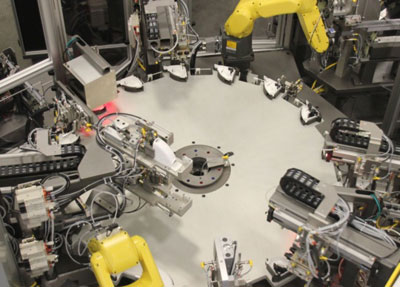 Examples Include:
Robot arms that can be programmed to assume multiple tasks, such as insert screws, drill holes, sand, weld, insert rivets, and spray paint objects on an assembly line.
Advantages:
Continuous production of variable mixtures of products
Flexible to deal with product design variation
Offers Medium production rate
Disadvantages:
Requires High amount of investment
High unit cost relative to fixed automation
Totally-Integrated Automation (TIA)
More of a philosophy pioneered by Siemens Automation and Drives, TIA includes three core concepts:
A common software environment
A common data management system
A common communication method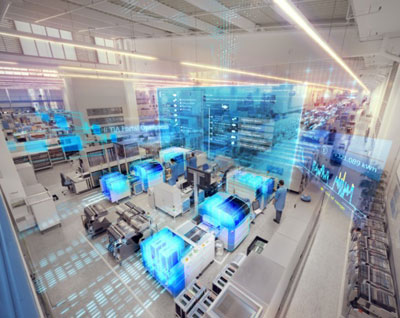 TIA implementation is ideal for many industries, inlcuding:
Automotive
General machine construction
Special-purpose machine manufacturing
Standard mechanical equipment manufacture, OEMs
Plastics processing
The packaging industry
Food, beverages and tobacco industries
Defining Characteristics:
Facilitates shorter time-to-market
Higher productivity
Lower life-cycle costs
Reduced complexity
Greater security of investment
Preventative Maintenance (PM) Versus Predictive Maintenance (PdM)
In Preventive Maintenance, tasks are completed when the machines are shut down. Predictive Maintenance activities are carried out as the machines are running in their normal production modes. Both are essential in saving manufacturers money and maintaining production quality, but special focus has been placed on Predictive Maintenance more recently. Qualities like real-time condition monitoring allow longer periods of operation between preventative maintenance tasks, resulting in less downtime for essential machinery.
Mobile Control Of Automation in Manufacturing
Mobility is the future of your workforce.
This is visible in the increased interconnectivity between applications and hardware we use in our daily lives. Mobile control is flexible, intuitive, and powerful. The concept has taken a prominent focus within manufacturing and a call for new industry-wide standards to be adopted has come from automation's research and engineering professionals all over the world.
Mobile apps are already being relied on as fast and user-friendly means of accessing plant information with a tap of the finger or swipe of the hand. Mobile-access can save substantially on costs, time, labor, and maintenance. The practice also enables operational problems to be identified and addressed remotely.
The Growing Pains Of Automation In Manufacturing
While it's true the application of automation upsets work roles and employment demographics within the industries where they are applied, the real pains are felt in the short-term transition process.
"The distinction between work and learning might need to become more amorphous. We currently have a dichotomy where those who work need not learn, and those who learn do not work. We need to think about getting away from the traditional five-day working week to one where I spend 60% of my time doing my job and 40% learning on a regular basis."

-Bhagwan Chowdhry, professor of finance at the University of California, Los Angeles
In the quote, Bhagwan Chowdhry, a noted professor of finance at the University of California, Los Angeles, explains his reasoning for a shift in thinking when it comes to working and learning.
Basically, it's understood that while robots and automation are being used to scale operations, your workforce and their skillsets need to be scaled alongside to maintain these processes and equipment.
This enables workers to learn about and take ownership of the most technical concepts and roles within a given manufacturing operation.
About Encompass Solutions
Encompass Solutions, Inc. is an ERP consulting firm, NetSuite Solution Provider and Epicor Platinum Partner that offers professional services in business consulting, project management, and software implementation. Whether undertaking full-scale implementation, integration, and renovation of existing systems or addressing the emerging challenges in corporate and operational growth, Encompass provides a specialized approach to every client's needs. As experts in identifying customer requirements and addressing them with the right solutions, we ensure our clients are equipped to match the pace of Industry.