5 Ways to Use A Wireless E-Stop
Emergency stopping systems and functional safety go hand in hand, but many do not realize that e-stops can be wireless for autonomous and remote-controlled machines and for every machine. When designed with safety standards and compliance in mind, wireless e-stops are just as safe as their wired counterparts. The biggest difference? Wireless e-stop devices can shut down a machine from any location instead of forcing a user to run toward a fixed e-stop in an emergency.
Safety-rated solutions like handheld wireless e-stops give users the ability to intervene in emergencies and control equipment safety from a distance, which means operators are moving away from the danger instead of moving towards it, as is often the case with wired emergency stops.
Benefits include improved safety for operators and increased protection for costly equipment. Wireless emergency stop systems can connect directly to standard safety circuits, making them easy to integrate into past, present, and future machines.
There are many reasons machines need to be stopped at a distance. Whether a machine needs a simple adjustment to the extreme scenario of using a wireless e-stop to avoid a life-threatening situation–having the capability to stop any machine anywhere at any time is crucial to the safety of a worksite. The worst time to start considering functional safety is after an accident has already happened, making it much more critical for companies to implement functional safety solutions proactively.
Here are some innovative ways to use wireless e-stops in worksites across industries.
1. Autonomous Lawn Mowers Controlled From a Distance
Robotic mowing is already making its mark on commercial lawn care as more and more equipment manufacturers introduce high-tech solutions for turf care. Whether a machine is autonomous, robotic, or remote-controlled, wireless e-stopping capabilities are essential for dangerous equipment like lawnmowers.
Atlanta's Greenzie aims to "free humans from repetitive outdoor labor." The company uses FORT safety solutions to keep things running safely so end-users can handle tasks requiring human touchpoints like edging and weeding. In this video, an operator shows off the rapid response time of the FORT Wireless E-Stop.
Atlanta aims to "free humans from repetitive outdoor labor." The company uses FORT's Wireless E-Stop (WES) to keep things running safely so end-users can handle tasks requiring human touchpoints like edging and weeding.

Check out this video of an operator utilizing a wireless e-stop to control an autonomous lawn mower from Greenzie.
2. Command a Small Fleet of AMRs
Autonomous Mobile Robots (AMRs) and Automated Guide Vehicles (AGVs) are increasingly important in warehouses worldwide. But having dozens of these vehicles moving around worksites can pose safety hazards. A wireless e stop can control multiple robots at once with a single button ensuring worksite safety while keeping humans in control.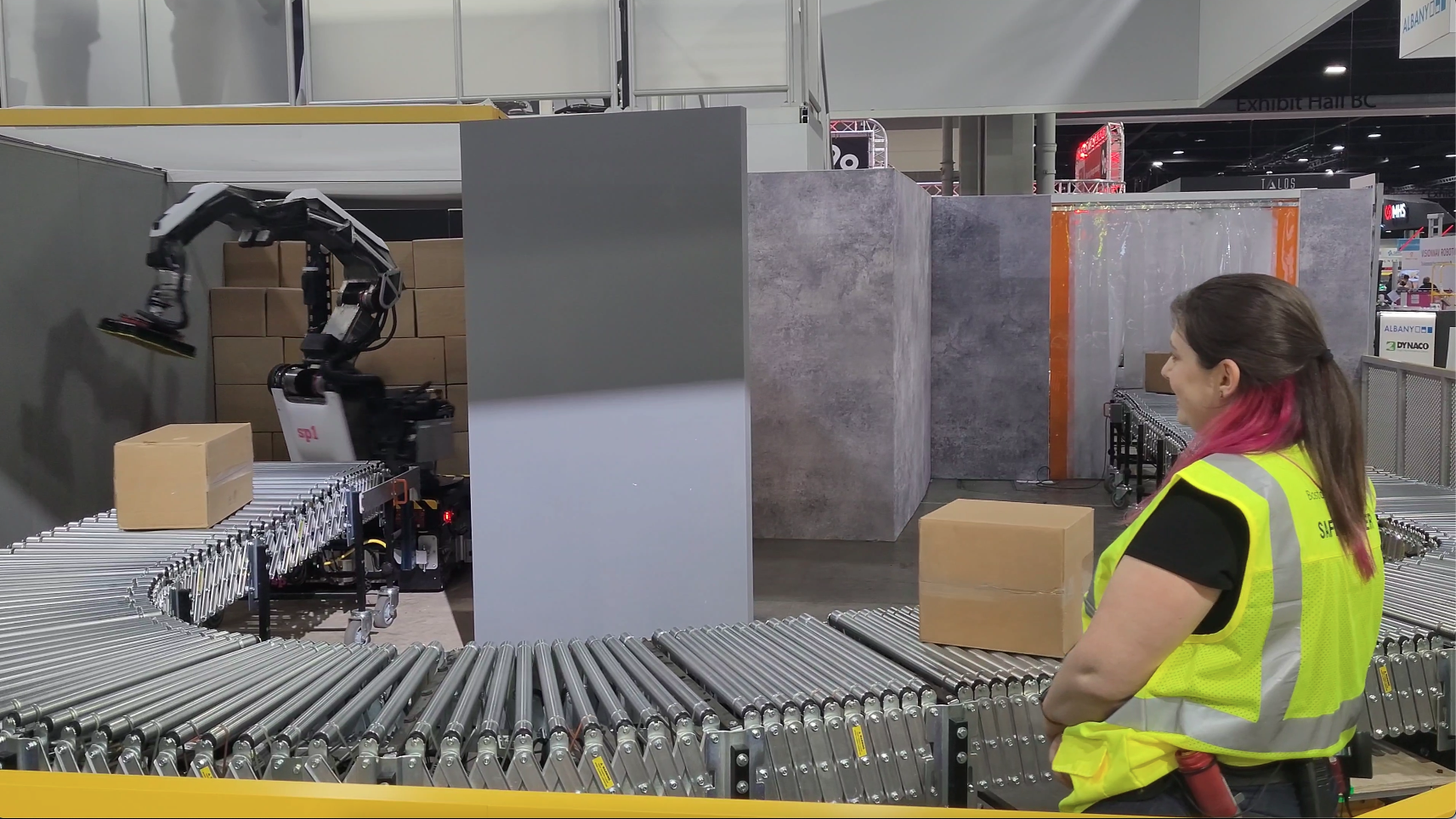 An employee is overseeing a Boston Dynamics warehouse robot with a FORT Wireless E-Stop attached to their belt.
3. Protect Workers in Auto Manufacturing
Mezzanines and high-risk areas on automotive factory floors are rife with potential dangers, and often a fixed emergency stop may not be within easy reach. Wireless e-stopping systems, like FORT's Wireless E-Stop device, help improve the safety of workers and equipment in high-risk areas, not to mention increase the productivity and efficiency of the factory floor.
This application was an ideal solution for one of FORT's auto manufacturing customers. The company positioned Wireless E-Stop devices at the entrance of a potentially hazardous area for team members to pick up as they entered.
4. Develop the Robots of the Future
Robots are cleaning floors, providing medical care, and even patrolling public places to enforce social distancing during the COVID-19 lockdown. As the demand for last-mile robots continues to increase, public opinion is shifting in favor of robots that can deliver packages and takeout food directly to homes.
Developing and testing these autonomous robots can be dangerous, especially when navigating unpredictable, real-life environments. For engineers and designers tackling the challenges of employing real-world robots, functional safety is top of mind. Using wireless safety systems connected to wireless emergency stop devices can help safeguard a company's innovations and the people interacting with machines in real-life scenarios.
This Magna Pizza Delivery Robot utilizes a wireless e-stop in its chase vehicle for added security while running real-world tests.
5. Safeguard Construction & Mining Worksites
Construction and mining sites are some of the most dangerous worksites, presenting unique safety challenges.
Autonomous systems and remote-controlled equipment can help make these sites safer. But with massive vehicles and construction equipment, the importance of safety is obvious. For mining applications, why not install a wireless e-stop system on the cab of a 6060? It would make the machine safer for the operator, other machines, and worksite staff.
Just For Fun…
Honorable mention goes to the inventor aficionados at Hacksmith Industries, who are proving once again that wireless safety systems and e-stop devices have more than just industrial applications.
Recently, FORT's Wireless E-Stop and smart remote control were critical components for an inspiring mega hexapod build. Considering the team used multiple excavators to create this massive build, safety was top of mind for even this challenging and entertaining project. Keep an eye out for the signature red handheld E-Stop being used in this video when something unexpected happens with the build.