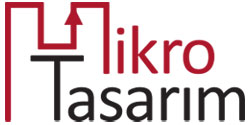 Mikro-Tasarim Elektronik Sanayi ve Ticaret A.S.
ODTU Teknokent ODTU-MET Alani A-1 Blok
4. Bolum Ofis: 3/A Eskisehir Yolu 9.Km
Ankara, 06530
Turkey

Vision | Member Since 2016
Mikro-Tasarim is a fabless semiconductor company, specialized in the development of advanced, high-performance Readout Integrated Circuits (ROICs), sensor and cameras working in VNIR, SWIR, MWIR, and LWIR bands and Applications Specific Integrated Circuit (ASIC) products for surveillance, aerospace, security, energy, scientific, industrial, and commercial imaging. Also provides test electronics, cemare cores and camera.