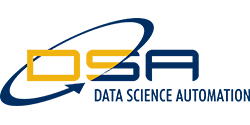 Data Science Automation, Inc.
375 Valley Brook Road
Suite 106
McMurray, PA 15317-3370
United States

Vision | Member Since 2018
Select a Vision System specialist that has pioneered adaptive automation principles, earned advanced industry certifications, guarantees technical breadth and depth, and invests in client empowerment to minimize your risk and vendor dependence. Data Science Automation offers complete PC- and PAC-based and Smart Camera vision systems will incorporate a variety of hardware and software components, as well as technical and creative strategies. Components will likely include the computer, application software, driver software, framegrabbers, cameras, lenses, lighting and other accessories such as proximity sensors and switches. DSA offers a comprehensive set of products for all of your vision needs. We have solid relationships with the finest component manufactures and distributors, giving us the ability to select the right products and procure them promptly.