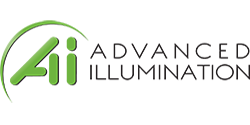 Advanced illumination, Inc.
440 State Garage Road
Rochester, VT 05767
United States

Vision | Member Since 1997
A global leader in the LED Machine Vision Industry since 1993, Advanced illumination combines innovation in product development and quality in processes to deliver tailored lighting solutions to its customers. Our expansive product range includes lighting for object inspection, materials handling, and other industrial automation applications. Products include high brightness and standard LED lighting with a variety of power options including our inline Current and Strobe sources and our new Pulsar 320 compact strobe. Expandable products include a xenon replacement Line Light, Surface Mount LED backlights and backlight strips. Our breadth of knowledge serves OEM applications with custom solutions at standard lead times. We offer clients vision lighting expertise including design, prototyping and engineering. Our technical staff can solve your optical challenges and space limitations. We design and build our products in Rochester, Vermont.