Case Study: Hand-eye Coordination Vision Guided Robotic Solution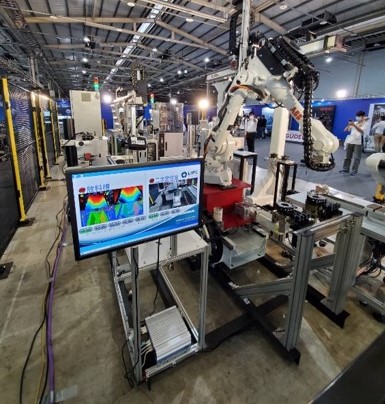 General overview
Robotics and machine vision are common automation applications in smart factories. The robotics system can detect and pick out machine tools and place them into storage, awaiting maintenance or restoration. With the development of Industry 4.0, building a smart factory requires intelligent robots, industrial gateways, etc. to maintain quality, consistency and manufacturing efficiency.
The robotic arm application in smart factories is a common sight. Frequently used to replace human labor in repetitive tasks, as the term "pick and place" suggest, it picks up an item from location A and places it to location B. Though a simple action, but to the human body, the repetitiveness of up to tens of thousand times a day will result in fatigue and inaccuracies. And hence, the invention of the robotic arm application that can work around the clock.
Problem-solving
As time goes by, robotic arm applications have advanced into utilizing machine vision to meet the demand to handle delicate precision tasks or items with complex shapes. Such as items with multiple geometric or reflective surfaces that would have otherwise been hard for the traditional robotic arm to handle. This issue makes it hard for the robotic arm to recognize and pick up from location A and place the item to location B.
Problem solved – VGR solution, Neousys Nuvo-7006E-PoE + LIPSLab 3D cameras
At LIPSLab, a leading expert of 3D machine vision cameras implemented 3D cameras into ABB robotic arm and Neousys Technology's Nuvo-7000 series that utilizes NIVIDIA graphics card processing power to create the "Vision Guided Robotic (VGR)" solution.

The solution consists of three laser focus 3D cameras strategically positioned to register X, Y and Z axis of the item and the Nuvo-7000 series can calculate and adjust A, B and C access and departure angle of the item. LIPSLab chose Neousys Technology's Nuvo-7000 series that can survive in compact embedded enclosures under extreme heat conditions and utilize NVIDIA graphics card's inference processing power to boost the solution's ability to recognize various geometric surfaces, size and shape. This allows the robotic arm to precisely identify the item's exact location and shape for pick up, the item can be safely retrieved and placed onto the platform.

This is a powerful hand-eye coordination solution that features ABB robotic arm (the hand), LIPSLab 3D cameras (the eye) and coordinated by Nuvo-7000 series GPU-aided computer to pick up items in non-specific positions delivered by a conveyor belt, place it accurately onto the platform for spraying, welding, deburring, deflashing or other surface treatment processes.