5 RTOS Performance Compared on EtherCAT Master – IntervalZero's RTX/RTX64 Stands Out
POSTED 03/15/2017
 | By: Terri Hawker, Vice President Product Management
The KINGSTAR Soft Motion platform supports multiple industry-leading EtherCAT Masters to guarantee that devices from different manufacturers can work together seamlessly. The centralized controller architecture provided by an EtherCAT Master ensures all of the benefits of EtherCAT technology, like real-time operations, short cycle times, and maximum performance for minimal expense.
One of our EtherCAT Master partners, Koenig, recently compared the performance of their KPA EtherCAT Master on five different real-time operating systems (RTOS), including IntervalZero RTX64, the foundation of the KINGSTAR platform. The results are compelling.
Koenig found that RTX64 has measurably less jitter and faster response time in both a simple and complex EtherCAT configuration than the competition.
Koenig performed the comparison on an Intel Core i7-3770 CPU core with 8GB of RAM and an Intel Gigabit CT desktop adapter NIC. They compared IntervalZero RTX64 with Xenomai, INtime, QNX, and WindRiver VxWorks, although their KPA EtherCAT Master also supports IntervalZero RTX, Linux RT Preemt, QNX, and Windows.
Here is how the 5 RTOSs compared across master cycle time, jitter, average slave response time, and percentage of average CPU load in both simple and complex configurations: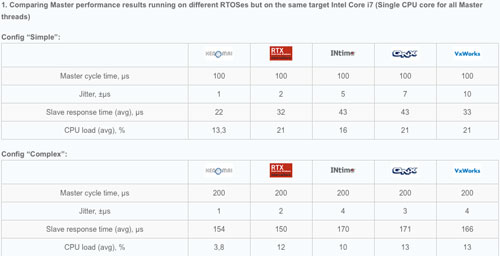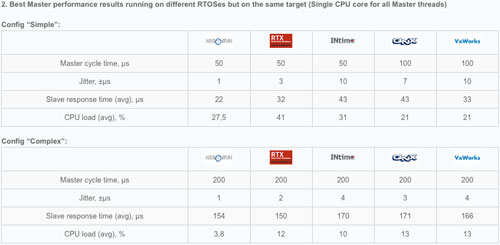 You can see that in this 3rd party benchmark, RTX64 demonstrated far less jitter, significantly faster slave response time, equal master cycle time, and comparable CPU load. This makes IntervalZero RTX64, and therefore the KINGSTAR Soft Motion Platform, an excellent choice for any organization using an EtherCAT Master like Koenig's KPA stack.