Professional Service Robots and AI Improving Customer Service
With the popularity of virtual assistants like Siri and Alexa, the general public is getting more accustomed to interacting with machines. As a result, businesses are looking for ways to incorporate these kinds of innovations into customer service to increase efficiency, raise customer satisfaction, and lower costs.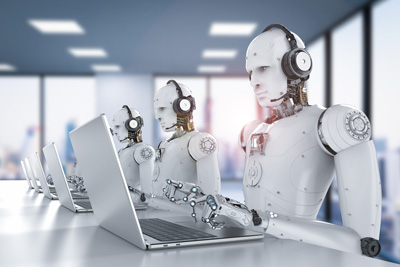 Many customers have revealed that they would be comfortable dealing with a robotic customer service agent, but the majority still have some reservations. They don't want the service to lose its "human touch." Therefore, a balance is needed when adopting these new customer service channels.
Implementing Robots into Customer Service
Automation and self-service can improve efficiency and give customers a choice when interacting with a business,but many customers say they still want the opportunity to speak with a human agent when needed. Therefore, adopting a single method that uses automation won't please everyone.
AI-enabled robots are being programmed to work alongside humans, interact with customers, and perform administrative functions. They also can be used to streamline backend processes, such as supporting compliance requirements and responding to data-related questions. Using service robots in this way still keeps humans in front of the customers.
Digital transformations often fail because people are resistant to change. Robots can play an important role by providing a physical manifestation of the company's new methods. Employees have more insight into digital processes, including data collection and AI analysis, throughout their daily routines.
Businesses can't just consider hardware costs when adding customer service robots. They need to take custom app development and change management into account. It's important to design and develop intelligent and compassionate robot experiences that will benefit the business, customers, and employees.
Upcoming Roles for Customer Service Robots
There's already been an explosion of robot form factors in the market. In North America, retail stores are already using robots as greeters. Around the world, banks, healthcare facilities, and airports also use service robots.
The following applications will likely be the top uses for professional service robots in the coming year.
Marketing Specialist. Marketing operations can grow sales and intensify marketing messages using service robots to capture attention and leads.

Talent Scout. A service robot can support HR specialists at career fairs to attract tech-savvy people to apply for employment.

Employee Training. Businesses can use robots for online training content to improve compliance and increase participation.

Inside Sales. Service robots can provide best practice answers to common questions asked of customer service or inside sales people.

Queue Management. Service robots can alleviate backlogs by providing check-in for appointments, queue management for tech support, digital registrations for events, or wait-time analytics to learn about customers and prospects.
The role of professional service robots is expanding in a number of business areas. With the continued advances in artificial intelligence, it is expected that customer service robots will be adopted by more companies looking to create efficiencies, speed customer service, and free up their human labor for more intellectual and creative tasks.
If you're looking for more information about service robots, read our technical article Service Robots on the World Stage.
Service Robots
This content is part of the Service Robots curated collection. To learn more about Service Robots,
click here
.