Preparing for a digital transformation in manufacturing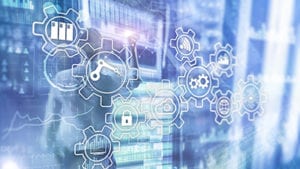 Most CEOs understand they are in a race to implement artificial intelligence
Last year, the Association for Advancing Automation (A3) surveyed our members about their companies' adoption of AI. More than 76% of respondents felt that AI will be important to their companies in the next 3 years. However, just 3.3% of those surveyed said that AI was being widely applied in their organizations.
This has been called the Ambition-Execution Gap.
Companies know they need to implement AI strategies but are frequently at a loss on where to begin. Or they get stuck in a pilot purgatory where AI initiatives never reach a scale where they can help the overall enterprise. Even when on the right track, there's not the talent in the pipeline to support their efforts.
Last month, Intel Corporation – in a collaborative research project with A3 -- released the first part of a comprehensive study on the digital transformation of the manufacturing sector called "Accelerate Industrial." In Part One, Intel researchers Dr. Faith McCreary and Dr. Irene Petrick identified some of the key challenges that could derail the companies' Industry 4.0 efforts. The reports also outline opportunities for businesses – and technologies -- to futureproof themselves while preparing for digital transformation.
TOP TECHNOLOGY CHALLENGES
Here's a sampling of concerns from the survey's participants when asked what could derail their investments in digital transformation:
36% said technical skill gaps could prevent them from benefiting from our investment.
27% cited data sensitivity from increasing concerns over data and IP privacy, ownership, and management.
23% were worried about a lack of interoperability between protocols, components, products, and systems.
22% cited security threats, both in terms of current and emerging vulnerabilities in the factory.
18% said handling data growth in both the amount and velocity as well the ability to interpret the data.
18% worried about scalability roadblocks to accommodating growth without any business or performance loss.
HOW TO FUTUREPROOF
Here are some of the actions companies, technologies or ecosystem providers can take to accelerate their transformations:
Manage your supply chain vendors to maximize value: Identify key suppliers and build relationships that go beyond individual transactions.
Develop governance policies and standards to share data between silos in your company and between your company and your key suppliers
Faster is not always better. For manufacturers, this means developing an overall vision of what digital transformation and AI can bring to the manufacturing operations before initiating pilot projects. Ecosystem technology solution partners need to manage updates and new introductions to correspond to manufacturer needs – don't outpace the market.
Develop cross-vendor relationships needed to build end-to-end solutions.
This report is the first of several that Intel will release as part of this project.
You can read more about Intel's study here. You can also download the Futureproofing the Enterprise report.