Automation Efficiency through Appification: Simplifying Robotic Systems for Everyone
Tweet This:
Simplify the deployment of robotic systems with customizable and pre-built solutions through the appification of automated systems. Learn more about the benefits of appification. #appification #robotics #automation
Enhance productivity, improve safety, and reduce overall costs with appified robotic systems. Check out these examples of appified robotic systems and their impact. #appification #robotics #automation
Automation Efficiency via Appification: The Role of Mobile App Adoption in Robotic Systems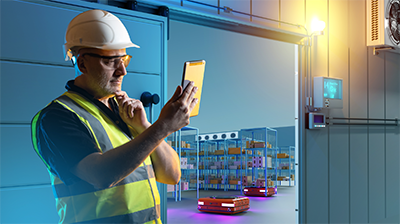 The era of complex programming and challenging user experience in the robotic industry is ending with the rise of "appification" - developing applications ("apps") that integrate with existing robotic systems to enable optimized performance with minimal complications. Essentially, appification allows non-tech-savvy users to operate as experts.
Today, there is an increasing demand for automation solutions across various industries seeking to increase productivity and efficiency by leveraging user-friendly applications. Several sectors, from manufacturing to healthcare and warehousing, are embracing robotic automation and will continue to access its endless benefits as long as the technology is simple to use and navigate.
Benefits of Appification in Robotics and Automation
While there are numerous benefits, deploying robotic systems may be challenging depending on a user's comfort level and internal capabilities. Complex programming and installation processes present a steep learning curve for the average user.
The appification of automated systems offers simplified deployment with customizable and pre-built solutions requiring little or no technical expertise, allowing the focus to shift to the intuitive interfaces that enable users to manage and monitor their robotic systems effortlessly. Consider how you set up and manage your "smart home" accessories on your mobile device with relative ease and translate that to operations on the factory floor. A shift from "plug and play" to "plug and produce."
Robotic automation offers various benefits, such as increased productivity, improved operation efficiency, and reduced costs. These benefits may be further enhanced through appification. The use of mobile devices and intuitive interfaces streamlines processes and enables organizations to achieve their automation objectives more efficiently.
Robotics Software Becoming Productivity Apps
As technology advances and industries continue to evolve, the value of intuitive software is increasingly apparent. A recent Assembly Magazine article discusses how the appification of factory automation robotics is developing through the rise of open-source operating systems and third-party programming software. This software is designed to be agnostic to robotics hardware, making it easier for end-users to program and simulate the behavior and movement of industrial robots leveraging a user-friendly interface.
The push to make programming easier is not a new concept, but advances in processing power and general knowledge of system integrators are driving changes in the industrial sector. New products such as Ready Robotics' Forge/OS provide a hardware-agnostic software layer that controls robots and related automation hardware from leading brands through a standard set of APIs. The software also offers intuitive robot programming and control, robotic movements in 3D simulation, workflow wizards, and flowchart-based programming.
Examples of Appified Robotic Systems & Their Impact
Robotic systems have already revolutionized industries with their efficiency and precision. Integrating these solutions with simplified UI/UX software on mobile applications offers greater adoption and flexibility. In 2022, SVT Robotics' partnership with Locus Robotics accelerated AMR deployments, streamlining warehouse automation processes with their innovative app-based approach, enhancing productivity, improving safety, and reducing overall costs.
Siemens' AGV and Mobile Robot Management
While Automated Guided Vehicles (AGVs) are instrumental in manufacturing, distribution centers, and warehousing, controlling them can be a complex task.
Top industry organizations such as Siemens are decreasing the barriers of deployment and user-friendly management of fleets of AGVs and mobile robots that may be centrally controlled using software toolkits - like Simove, allowing modular and app-centric control capabilities to its users. From tracking robot movements to data collection, managing inventory, and assigning tasks, this software makes it easy to stay on top of your mobile robots' operations and enhances decision-making capabilities across the board with simplified, user-friendly interfaces.
Increasing Profits, Reducing Overtime
Vortex Companies specializes in designing and manufacturing components for the transport and flow control of dry bulk solids.
With tight production schedules and a labor shortage of experienced welders, Vortex looked to new technologies to meet their challenges. While robots would be doing the actual work, humans are needed to supervise the process.
Touted to be easy to implement, with minimal to no programming required, and intuitive to use by operators of any skill level, Vortex turned to Cobot Welder, an automated welding solution from Hirebotics that uses a smartphone app. Welders provide the welding parameters and teach the welds with both hands on the robot, eliminating technical complexities and terminology and the need for a robot teach pendant.
Since implementing the Cobot Welder, Vortex has been able to take in more parts in shorter timeframes than they had been able to with previous robots, increasing profits by reducing overtime.
Challenges and Considerations
Security concerns related to appified systems
It is no longer a secret that even the best technologies have unique security flaws, and appified systems are no exception. In most cases, the main challenge lies in potential vulnerability to hacks and data breaches, which can lead to downtime, financial loss, legal issues, and loss of reputation. To address these concerns, developers must ensure these apps are safe and secure for end users.
Moreover, securing data is essential for users and app developers in a world where data is the new oil. Being proactive with security measures is vital to making any app a success. As demand drives the growth of this market segment, quality solutions providers are pouring resources into developing secure and reliable solutions organizations can depend upon.
Automated Processes at Your Fingertips
In the long run, the benefits of appification in robotics and automation varies based on the complexity and mode of deployment. Businesses that adopt appification enjoy benefits ranging from improved user experience, increased accessibility, enhanced functionality, and simplified integration, to name a few.
Adopting innovative technology is critical for organizations to remain competitive in today's fast-paced and continuously evolving market landscape.
For more information, we invite you to watch this 2022 panel discussion to learn more about the Appification of Automation, including:
What the industrial app store should look like
Motivation behind keeping automation simple
Who is making automation easier to use and why
Big picture trends in robotics, operations, and support