LIVE IN MAY
VIRTUAL CVP TRAINING
A3 is now offering a new virtual Certified Vision Professional Certification Training with LIVE instructors.
BASIC COURSES: May 10-14
ADVANCED COURSES: May 17-21
(Full course schedule is below)
The CVP certification is the signature credential in the vision industry, showcasing your expertise and professional excellence. Many companies now require the certification of their automation partners. These certification programs are specifically designed to ensure professionals have the knowledge they need to advance their careers and their business.
As the world's largest trade association organized specifically to advance the global understanding and implementation of vision and imaging technologies, A3 continues its mission by providing training and certification programs in machine vision, robotics, and motion control.
BE THE FIRST! Take the revamped A3 Certified Vision Professional (CVP) Training program with new and updated courses.
INTERACT WITH INSTRUCTORS: Don't miss the rare opportunity to talk directly with instructors and ask your questions via this exclusive webcast.
TAKE THE EXAM AND GET CERTIFIED: You'll have the option of taking the virtual exam immediately following the courses.
**Please note all exam times are listed in the Eastern Time Zone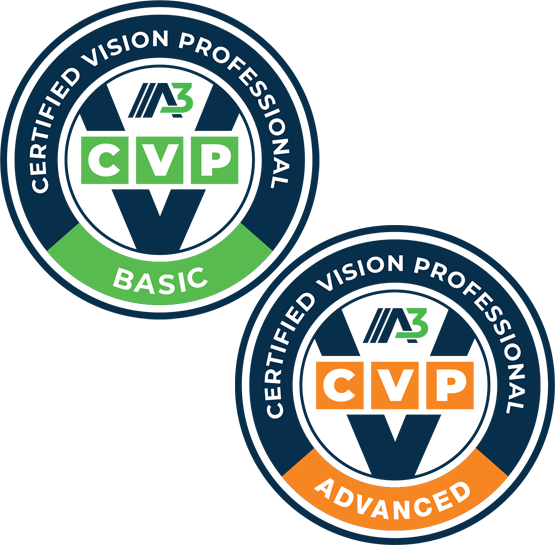 VIRTUAL CVP TRAINING PRICE
---
Basic courses: $650 member/ $750 non-member
Basic courses including exam: $945 member/ $1,195 non-member
Basic exam: $295 member / $445 non-member
Advanced courses: $1,045 member/ $1,145 non-member
Advanced exam: $495 member / $645 non-member
Advanced courses including exam: $1,540 member/ $1,790 non-member
BASIC COURSE SCHEDULE

Monday, May 10, 2021

10:00 AM - 2:00 PM ET (4 hours)

The Fundamentals of Machine Vision
David Dechow, Integro Technologies

Tuesday, May 11, 2021

10:00 AM - 12:30 PM (2.5 hours)

Beginning Optics for Machine Vision
Nick Sischka, Edmund Optics

2:00 PM - 4:30 PM ET (2.5 hours)

Beginning Lighting for Machine Vision
Daryl Martin, Advanced Illumination

Wednesday, May 12, 2021

10:00 AM - 1:00 PM ET (3 hours)

The Fundamentals of Camera & Image Sensor Technology
Kevin McCabe, IDS Imaging Development Systems, Inc.

2:00 PM - 4:00 PM (2 hours)

Image Processing Fundamentals
Nicolas Vazquez, National Instruments
Romik Chatterjee, Graftek Imaging, Inc.

Thursday, May 13, 2021

10:00 AM - 12:30 PM (2.5 hours)

Vision System Design
David Dechow, Integro Technologies
Perry West, Automated Vision Systems, Inc

Friday, May 14, 2021

10:00 AM - 11:00 AM ET

Optional Virtual CVP Basic Exam
ADVANCED COURSE SCHEDULE

Monday, May 17, 2021

9:00 AM - 11:30 AM ET (2.5 hours)

Advanced Optics for Vision
Stu Singer, Schneider Optics, Inc.

12:30 PM - 2:30 PM ET (2 hours)

Advanced Vision Lighting
Steve King, OMRON Microscan Systems, Inc.

3:00 PM - 5:00 PM ET (2 hours)

Advanced Camera & Image Sensor Technology
Steve Kinney, Smart Vision Lights

Tuesday, May 18, 2021

9:00 AM - 11:00 AM ET (2 hours)

3D Vision System Development
Mattias Johannesson, SICK

12:00 PM - 2:00 PM ET (2 hours)

Introduction to Machine Learning
Andy Long, Cyth Systems, Inc.

2:30 PM - 5:30 PM ET (3 hours)

Designing High-Speed & Linescan Vision Systems
Perry West, Automated Vision Systems, Inc.
Dale Deering, Teledyne DALSA

Wednesday, May 19, 2021

9:00 AM - 12:00 PM ET (3 hours)

Advanced Color Machine Vision & Applications
Romik Chatterjee, Graftek Imaging, Inc.

1:00 PM - 3:00 PM (2 hours)

Advanced Vision Guided Robotics
David Bruce, FANUC America Corporation

Thursday, May 20, 2021

9:00 AM -11:00 AM ET (2 hours)

Metrology & 2D Calibration Techniques
David Michael

1:00 PM -2:30 PM ET (2.5 hours)

Non-Visible Imaging Theory & Techniques
Martin Ettenberg, Princeton Infrared Technologies, Inc.

3:00 PM – 5:30 PM ET (2.5 hours)

Advanced Image Processing
David Zerkler, Matrox

Friday, May 21, 2021

10:00 AM - 12:00 AM ET (2 hours)

Advanced Vision Integration
David Dechow, Integro Technologies
Robert Tait, Optical Metrology Solutions LLC

3:00 PM - 5:00 PM ET

Optional Virtual CVP Advanced Exam