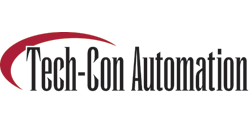 About Tech-Con Automation: Located in Burlington, ON Canada, Tech-Con Automation is a builder of custom material handling equipment. They hold a Professional Engineers of Ontario Certificate of Authorization and their products and services range from machining, fabrication, mechanical and electrical services to project management, engineering and more.
Nino LaDuca, President for Tech-Con Automation met with RIA recently to share the company vision and how becoming RIA certified has benefited their business.
RIA: Tell me a little bit about your company.
NL: Tech-Con Automation was founded in March of 1995 and has established itself as a leading source for Robotic Material Handling Solutions, Pallet Based Assembly Lines, Robotic Waterjet Cutting & Cleaning Systems & General Industrial Automation Equipment.
Our systems and solutions combine deep application knowledge, strong engineering standards, quality fabrication and precision assembly methods, all expertly managed throughout the entire process. We are committed to delivering systems of the highest reliability that improve our customer's production efficiencies and enhance their product quality.
Tech-Con is part of the Shape Technologies Group which consists of several companies such as KMT Waterjet, Dynamic Robotic Solutions, H20 Jet and Flow international.
RIA: Give an example of a challenging application your company developed.
NL: A recent system which we've delivered was a robotic case packing line complete with 8 Fanuc M-20iA complete with line tracking and vision system for an international leader in the baked goods and food products industry. Several challenges were immediately evident such as placement on a mezzanine with limited floor space, low ceiling height, wide variance of product with nearly 50 distinct products, and a very high rate of production to name a few. Our design team worked closely with the customer to develop this solution which featured dedicated robot cells each capable of automatic tool change to accommodate the distinct product families. Robotic end of arm tools were capable of picking both multiple frozen pizzas with vacuum cups as well as wax paper, as presented by a high speed cut to length wax paper feeder for layering in the case. Cases were transferred through a large arrangement of energy efficient powered roller conveyors all within the designated cycle times.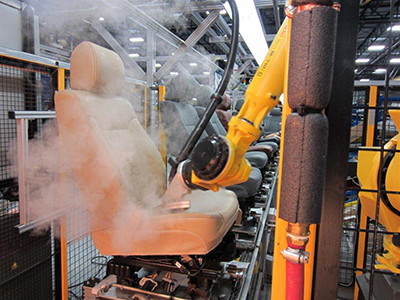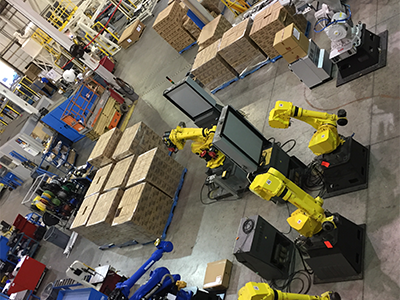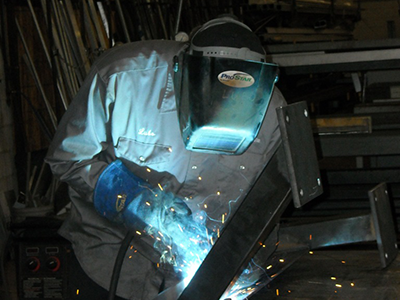 RIA: What are the primary industries you serve? What markets do you serve – global or domestic?
NL: Our focus in terms of industries has been on the automotive, food & beverage and consumer goods markets. Although we are located in Burlington, ON Canada, a significant portion of our install base is in the USA, Mexico, Brazil and most recently in Europe.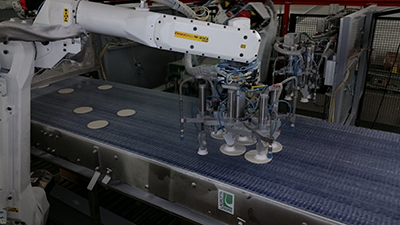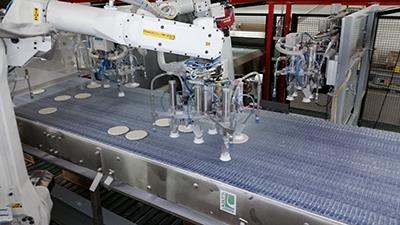 RIA: What is your vision for the company?
NL: Our vision for Tech-Con is that we continue to develop custom automation solutions for our customers while developing new technology and promoting the growth of our people. We continue to collaborate with our partners, such as FANUC, Motoman and Rockwell Automation on the latest technology which would benefit our customer's business requirements. Additionally, we are always striving to improve our customer service delivery so that our customers enjoy dealing with Tech-Con.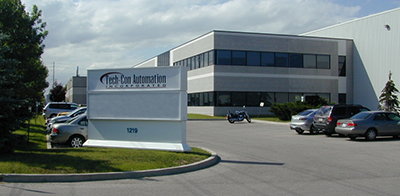 RIA: How would you describe the current state of the robotics industry in your country/state? What are the challenges you face?
NL: We find that the robotics industry and the demand for automation in general is increasing each year. Our customers face global business challenges and therefore are continuously searching for methods to improve their production throughput, quality and safety. The biggest challenge we face is finding qualified people to help us deliver our systems. For the most part in Ontario, Canada, we've faced a real labor shortage for the robotics industry and that gap has challenged several companies. We are excited with the investment that several robot manufacturers, such as Fanuc and Motoman have made at the local colleges as this will eventually close the gap on the labor shortage and attract more youth into our industry.
RIA: Why did you decide to become RIA certified?
NL: We joined the RIA back in 2011 and became the first Canadian Certified Integrator back in 2013. At that time, we decided to join and pursue the RIA Certification was to gauge and to validate where we stood with our competencies and technical capabilities. This was important to our leadership team as we needed to understand our gaps in terms of business practices and capabilities compared to other integrators. To this day, we actively participate in several conferences that the RIA holds as we benefit from the great networking opportunities and safety standard updates.
To learn more about the RIA Certified Integrator Program or to download the RIA Certified Robot Integrator Self-Score Card for free, please visit our website.