Pick and Place Robots Offer High Speed and Precision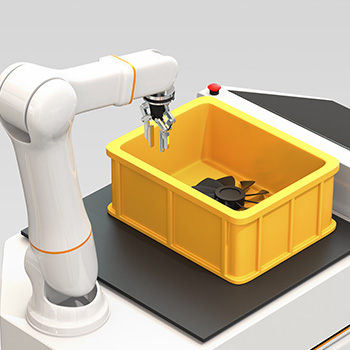 Project-Driven Collaborative Robots Enhance Pick and Place Processess
Pick and place collaborative robots (cobots) are being used by a growing number of industries due to their ability to perform highly repetitive, precision tasks. These cobots are able to work safely alongside humans for increased productivity, improved product quality, and high-speed material handling. Many pick and place cobots are also able to work autonomously, which means even greater productivity as well as workforce flexibility.
Easy to program and quick to set up, pick and place cobots are leveraged for a variety of applications, depending on the manufacturer's needs. Those with a small profile and lightweight design can be easily moved to new processes or deployed in tight spaces. The most common applications are:
Assembly
Bin picking
Finishing tasks like deburring, grinding, and polishing
Inspection
Material handling
Packaging, palletizing and depalletizing
Specialized process tasks, for which end effectors are designed
Pick and place cobots offer a number of time and cost-saving benefits. Performing high-speed, precision tasks, cobots typically deliver increased productivity and quality, as well as labor savings. They also reduce safety hazards to humans by taking over taxing, repetitive tasks. With the design of specialized end-effectors and the cobot's increasing capabilities, pick and place collaborative robots will continue to experience market growth with widespread adoption across industries for a greater variety of applications.
Read our blog articles for interesting, up-to-date insights and technological innovations in the exciting emerging market of industrial cobots.