Packaging and Palletizing Cobots Streamline Processes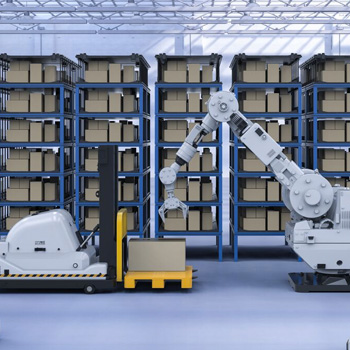 Collaborative Robots Deliver Efficiencies and Cost Savings
Packaging and palletizing collaborative robots (cobots) are being leveraged in numerous industries to optimize fulfillment processes. Packaging cobots, often used for lightweight operations, place objects or products in cases or trays. Case palletizing collaborative robot systems have compact, streamlined designs that deliver both precision and speed for the stacking of boxes, bottles, bags, pallets, and cartons ranging from medium to heavy payloads.
Meeting strict packing standards, packaging and palletizing cobots offer an effective, mistake-free solution to the demands of ergonomically unfavorable, repetitive work. They help to avoid employee injuries by facilitating the lifting of heavy loads with the assistance of lightweight collaborative robotic arms.
Among their many advantages, packaging and palletizing collaborative robots offer:
Versatility
A packaging and palletizing cobot can be redeployed and reprogrammed to adapt to a wide range of payload requirements. Due to its size and lightweight design, the robotic arm can be used in new constellations once the workflow demands decrease.
Lower Maintenance
Palletizing cobots have components that are equipped with low-wear drive trains. Due to their robust and streamlined design, palletizing cobots have lengthy maintenance intervals.
Strength and Speed
Packaging and palletizing cobots offer the ability to lift heavy payloads at a good speed, reducing cycle times, increasing the stacking rate of boxes, and achieving greater dynamic performance.
Compact Design
Their space-saving size enables the quick integration of packaging and palletizing cobots into existing systems to streamline performance and increase production efficiency.
Packaging and palletizing collaborative robots offer many advantages for streamlining processes to enhance efficiencies and reduce costs. They are intrinsically safe, easy to deploy and use, and exceptionally useful as an aid to perform tasks that could potentially harm their human co-workers.
For interesting, up-to-date insights and technological innovations in the exciting emerging market of industrial collaborative robots (cobots), read our blog articles.