Material Handling Collaborative Robot Applications Take On Heavy Payloads to Protect & Enhance Human Workers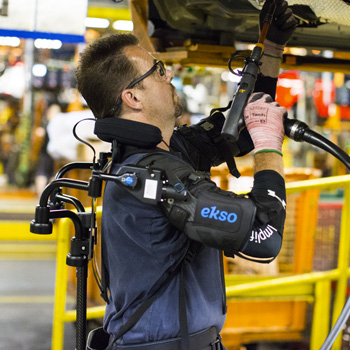 Image courtesy of the Ford Motor Company
Collaborative robots enhance efficiency and worker safety to deliver higher quality at a faster rate
Technological advancements are increasing the capabilities of material handling collaborative robots (cobots). Not only are human workers able to work collaboratively side-by-side with material handling cobots, new exoskeleton technologies allow them to be worn by human workers. Protecting human workers from occupational injuries while augmenting their physical capabilities, material handling cobots offer efficiencies that speed production, reduce injury and liability, and minimize costs.
Human Augmentation with Exoskeletons
Full-body exoskeletons, designed to lift heavy payloads of up to 200 pounds, are worn by humans to provide additional strength and endurance for repetitive tasks involving heavy tools or components. Featuring highly flexible, lightweight materials, exoskeletons enable workers to perform precision tasks without restriction of movement, minimizing exertion and reducing the chance of strain or injury. The exoskeleton is controlled using advanced actuators, sensors, and materials coupled with highly-sophisticated software control algorithms.
Delivering Higher Quality at a Faster Rate
Material handling collaborative robots are used to automate the most physically demanding, hazardous, repetitive, and monotonous tasks on a production line. By enhancing human capabilities, material handling cobots increase production efficiencies to deliver higher quality at a faster rate.
Capable of handling a wide range of payloads, collaborative robots are being used by an ever-expanding number of industries for a variety of material handling needs. These industries include, but are not limited to, automotive, biotechnology, electronics, food and beverage, medicine, laboratories, pharmaceuticals, and semiconductors.
Read RIA's collaborative robots blog articles for in-depth understanding of innovative technological advancements in the exciting emerging market of industrial cobots.