Cobot Machine Tending Delivers Higher Output and Lower Operating Costs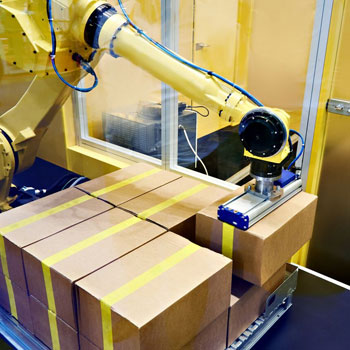 Improved Production and Reduced Risk of Injury Make Machine Tending The Most Popular Application of Collaborative Robots
Collaborative robots (cobots) play a central role in modern-day machine tending. A high-growth industry, machine tending currently represents the largest application of cobots for industrial automation. Cobots are being leveraged by manufacturers to increase productivity, improve product quality, and maximize output consistency.
Typically, machine tending involves a human worker loading parts into a machine to execute a task. The worker then removes the finished product and reloads another part. Not only does this waste an enormous amount of time that could have been spent more productively, it also increases the risk of injury or accidents due to the nature of the repetitive tasks.
Cobots work side-by-side with humans in various robotic machine tending applications for fast production change-overs and increased accuracy. Human workers no longer have to perform hazardous, repetitive tasks. Instead, their skills can be better utilized to perform value-added tasks to ensure quality control through CNC machine integration.
Robotic machine tending is used for loading and unloading parts during the following applications, including but not limited to:
Welding and grinding
Injection molds
Milling and turning
Compression molds
Stamping
Punching, forging, trimming
Although the production process for the various applications may differ, the main function of loading and unloading parts remain the same.
Collaborative robots can be used for virtually any machine tending applications. They offer many automation advantages, including fast deployment, easy programming, lower space requirements, and lower acquisition costs. Taking over the repetitive tasks that put humans at risk, they also offer safety and labor benefits that ultimately help to improve production.
As the most popular use of collaborative robots for factory automation, machine tending with cobots represents a high-growth industry.
Read our blog articles for interesting, up-to-date insights and technological innovations in the exciting emerging market of industrial cobots.