Webinars
Top 5 Engineering Process Improvements Teams are Making Now
Originally Recorded May 19, 2022 | 1 PM - 2 PM ET
ABOUT THIS WEBINAR
In today's competitive environment, small upgrades in product design processes can improve productivity, increase profitability, and reduce design cycles.
Tune into this webinar, to hear the "Top Five" critical steps that machine builders and system integrators are taking now to review their current tools, workflows, and data management capabilities. These key improvements will offer:
Unlimited design history with branch, merge and compare instead of Pack and Go zip files
Zero system crashes
Project collaboration without the need for file locking or check-in/check-out
The ability to CAD anytime, on any device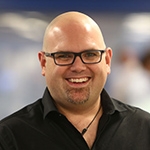 Mike LaFleche, Director of Technical Content
Mike LaFleche, a.k.a. "The Professor," is the Director of Technical Content at Onshape, a PTC business. A fixture in the 3D CAD community, Mike previously worked for multiple SOLIDWORKS Value Added Resellers in training and sales. He has also worked for companies in the "real world" in mechanical and electrical design positions utilizing a myriad of CAD systems. In his spare time, Mike enjoys live rock music and photography.
This webinar is filed under: