Webinars
The Evolving World of Vision Guided Robotics
Originally Recorded July 23, 2019 | Noon - 1 PM ET
ABOUT THIS WEBINAR
According to a report from Technavio, the market for vision-guided robots is expected to reach a value of $5.9 billion by 2021, up from $3.4 billion in 2016. The driver of this technology is a no brainer: Vision guided robots (VGR) are far more advanced and capable. VGR has become a mainstream technology in logistics, warehousing and smart manufacturing. As the use of VGR increases, technology is evolving to address a more challenging and broad application base.
This webinar will:
Review VGR and the implications for smart manufacturing.

Address recent and new technologies and applications.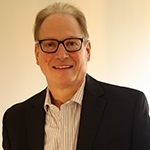 David Dechow
David L. Dechow is an engineer, programmer, and entrepreneur specializing in the integration of machine vision, robotics, and other automation technologies. Over a long career in the industry, he has served various companies including Landing AI, Integro Technologies, and Fanuc America. Most notably he was founder, owner, and principal engineer for two systems integration firms delivering successful machine vision and robotic solutions for nearly 30 years. Currently Mr. Dechow provides technology consulting and integration services through his company Machine Vision Source, LLC (MVSource.com) and also works as consulting Director at TechB2B supplying training and technology services to their clients.
David is a recipient of the A3 Automated Imaging Achievement Award honoring industry leaders for outstanding career contributions in industrial and/or scientific imaging. He is a member of the Association for Advancing Automation (A3) Imaging Technology Strategy Board, and is a contributing editor with Vision Systems Design magazine, and technical advisory board member with Saccade Vision Ltd.As a key educator within the machine vision industry, David has participated in the training of hundreds of engineers as an instructor with the A3 Certified Vision Professional program. He also is well known for his frequent informative technical articles, papers, webinars, and conference sessions and classes covering a wide range of technical topics involving machine vision and enabling technologies in industrial automation.
This webinar is filed under: