Webinars
The Evolving World of Vision Guided Robotics
Originally Recorded July 23, 2019 | Noon - 1 PM ET
ABOUT THIS WEBINAR
According to a report from Technavio, the market for vision-guided robots is expected to reach a value of $5.9 billion by 2021, up from $3.4 billion in 2016. The driver of this technology is a no brainer: Vision guided robots (VGR) are far more advanced and capable. VGR has become a mainstream technology in logistics, warehousing and smart manufacturing. As the use of VGR increases, technology is evolving to address a more challenging and broad application base.
This webinar will:
Review VGR and the implications for smart manufacturing.

Address recent and new technologies and applications.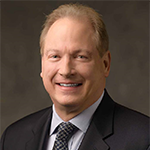 David Dechow
David L. Dechow is Principal Vision Systems Architect for Integro Technologies Corp., where he works with sales and engineering teams in the application evaluation and design of complex turnkey machine vision solutions.
Mr. Dechow has worked in the field of machine vision, automation, and robotics for over 35 years as a programmer, engineer, and business manager, and is recognized as a leading expert in the area of machine vision integration and technology. Prior to his position at Integro, he was Staff Engineer for Intelligent Robotics/Machine Vision at FANUC, and also was the founder, owner, and principal engineer for two successful systems integration firms.
Mr. Dechow is a recipient of the AIA Automated Imaging Achievement Award honoring industry leaders for outstanding career contributions in industrial and/or scientific imaging. He is a regular speaker at conferences, webcasts, and seminars, has had numerous articles on machine vision technology and systems integration published in trade journals and magazines, and is a member of the ASME (American Society of Manufacturing Engineers) Robotic Technologies Advisory Panel.
As a key educator within the industry for many years, Mr. Dechow has participated in the training of hundreds of engineers as an instructor with the AIA Certified Vision Professional program.
This webinar is filed under: