Webinars
Robot Safety Update 2022
Originally Recorded July 28, 2022 | Noon - 1 PM ET
ABOUT THIS WEBINAR
This is a reschedule of the webinar originally aired on July 14, 2022. The content is the same.
In this webinar, Director of Standards Development at A3 Robotics, Carole Franklin will share key updates on robot safety standards and technical reports.
Receive a clear understanding of current robot standards and what is on the horizon for future robot standards by attending this free, one-hour webinar.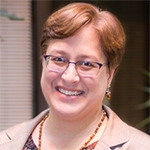 Carole Franklin
Carole Franklin is the Director of Standards Development at A3 Robotics. She leads the standards development activities within ANSI and ISO. Before joining A3, Carole spent over four years with management consulting firm Booz Allen Hamilton, where she led projects on business process improvement, internal communications, and executive communications. Prior to Booz Allen, Carole worked for Ford Motor Company for ten years in the market research department, where she led consumer research projects on hit products such as the Ford Expedition and Ford Explorer, and also served as project manager for the North American customer satisfaction tracking study, providing engineers with crucial customer input to help prioritize product quality improvement efforts. Her career has been spent translating the needs of end-users into actionable guidance for engineers and leaders – and vice versa. Carole holds BA and MBA degrees from the University of Michigan.
This webinar is filed under: