Webinars
Making Smarter Machines With Advanced Motion Control
Originally Recorded February 22, 2017 | 2:00 PM ET
ABOUT THIS WEBINAR
The manufacturing plants of our fathers and grandfathers are gone forever, along with the "three Ds" (dirty, dangerous, and dull) describing the jobs therein. Machine and worker productivity is the heart of economic growth, and emerging consumer applications (online shopping, smartphone connectivity, growing environmental concerns) are driving great changes in how goods continue to be produced. This webinar will spotlight the systems and components defining and improving machine productivity in the 21st Century.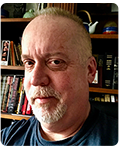 Webinar Presenter:
Ray Chalmers
Contributing Editor
Motion Control Online
Ray is a contributing editor to Motion Control Online and has been covering and writing about manufacturing for more than 25 years. His background includes 10 years in the publications division of the Society of Manufacturing Engineers in editorial positions on such magazines as Integrated Design & Manufacturing, Forming & Fabricating, and Manufacturing Engineering. He regularly writes about an array of industrial technologies. Chalmers holds a bachelor of arts degree in journalism from Central Michigan University.
This webinar is filed under: