Webinars
Leveraging AI to Maximize Cobot Efficiency
Originally Recorded November 08, 2022 | 2 - 3 PM ET
ABOUT THIS WEBINAR
Recent advancements in Artificial Intelligence (AI) have enabled collaborative robots to precisely execute tasks in dynamically changing workspaces, enabling operations to run more smoothly, efficiently and productively. AI is now intelligently powering cobots by leveraging billions of hours of iterative machine learned practices in manufacturing, production and engineering.
In this webinar, Tim DeGrasse, Senior Channel Development Manager for Universal Robots, will provide examples of AI-powered solutions and discuss the benefits of open interfaces. He will also explore real-life AI applications that are helping cobot users be more competitive by increasing production, decreasing cost, and shortening cycle times.
Primary Topics:
Understanding of AI-powered solutions and the benefits of open interfaces
How increased cobot performance translates to faster ROI
Unique cost savings available from collaborative automation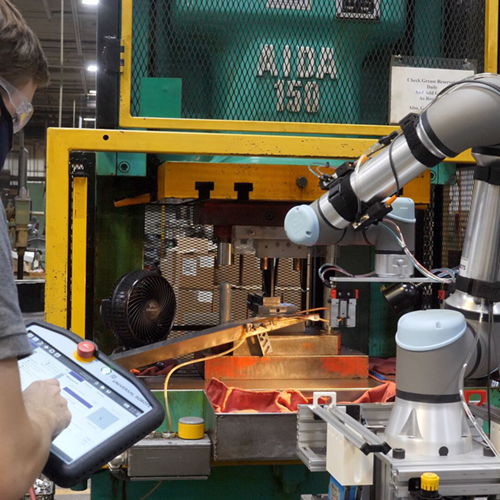 Exclusive Sponsor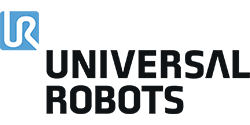 Universal Robots aims to empower change in the way work is done using its leading-edge robotics platform. Since introducing the world's first commercially viable collaborative robot (cobot) in 2008, UR has developed a product portfolio including the UR3e, UR5e, UR10e, UR16e and UR20, reflecting a range of reaches and payloads. Each model is supported by a wide selection of end-effectors, software, accessories and application kits in the UR+ ecosystem. This allows the cobots to be used across a wide range of industries and means that they can be redeployed across diverse tasks.
The company, which is part of Teradyne Inc., is headquartered in Odense, Denmark, and has offices in the USA, Germany, France, Spain, Italy, the Czech Republic, Romania, Turkey, China, India, Japan, South Korea, Singapore and Mexico.
Universal Robots has installed over 50,000 cobots worldwide.
We have a comprehensive sales and support network with over 800 distributors and certified system integrators located in over 60 countries helping our customers select, purchase, deploy and care for their cobots.
For more information, please visit www.universal-robots.com.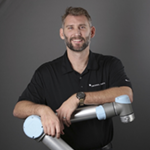 Tim DeGrasse, Senior Channel Development Manager
Tim is a Senior Channel Development Manager for Universal Robots, covering Northern California. He spent the first part of his career working on the manufacturing floor with L3 Technologies before transitioning to high tech sales. He moved into the automation market in Silicon Valley with Keyence Corporation and then Universal Robots where he has worked the past four years. Tim holds a bachelor's degree in Hardware Engineering from University of California – Santa Cruz. With a passion for helping companies adopt innovative technology, Tim has helped deploy hundreds of robots into the electronics industry helping customers stay ahead of the curve in the global manufacturing marketplace.
This webinar is filed under: