Webinars
Increase Robotic Productivity, Profitability and Performance with In-Motion Automation
Originally Recorded May 04, 2023 | 2 PM - 3 PM
ABOUT THIS WEBINAR
What applications would you solve for if automation became possible in areas previously not possible? If you found yourself in a position where new robotic arms are capable of taking over assembly tasks enabling reassignment of valuable team members, what impact would that have to your overall productivity and quality of production?
KUKA and Humatics have partnered to enable a new set of functional capabilities enabling highly-precise interactions between robotics and the moving environment one finds in areas such as automotive final assembly. For example, imagine a KUKA LBR iiwa 14 R820 now capable of autonomously torquing bolts on a moving assembly line in place of where a human was previously required to conduct this manual task.
On May 4th, 2023, at 2pm EST you will learn about a powerful technology that enables highly precise engineering of movement, opening up a new set of use cases to solve with KUKA robotics.
Key Takeaways:
How microlocation delivers the capability to control your robotics to accomplish new and expanded tasks that enable robotics to be used throughout area such as final assembly in automotive. production in aerospace, and other environments for human and robotic collaboration.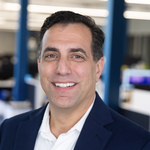 Ronald Ranaldi
Senior Vice President
Humatics
Ronald Ranaldi has over 30 years of experience bringing business-critical technology to the market. He has spent time increasing market share and building global organizations in the enterprise software space and has experience in the data center, power and finance sectors.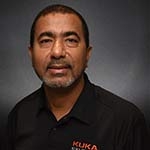 Houssaine Waled
Senior Staff Systems Engineer
KUKA
Houssaine Waled has more than 20 years of experience in the fields of robotics and motion control. His main areas of expertise are machine performance, including static and dynamic accuracy. He developed software tools to calibrate KUKA robots, both in factory settings and in the field.
This webinar is filed under: