Webinars
Demystifying Robotic Material Removal
Originally Recorded July 28, 2020 | Noon - 1 PM ET
ABOUT THIS WEBINAR
Explore applications that highlight how all the pieces work together and what factors you need to consider to get it right.
Material removal operations are a vital part of the manufacturing processes. There is a strong growth trend to automate these processes, but the process itself can surface many unknowns.
In this webinar, 3M and ATI will present cases that detail customers' ventures to automated material removal, highlight best practices for success, and illustrate how common challenges can be streamlined with the right selection of abrasives and tooling.
Attendees will learn how to assess and implement the ideal combination of abrasives, robotic tooling, and compliance to achieve an automated material removal process that drives their business forward. Resulting in safer, more efficient, higher quality results.
Key Takeaways:
Demystifying the automated material removal process
Things to consider when automating the material removal process
Deeper knowledge about the decision tree path to choosing robotic tools and types of abrasives to achieve your automation goals
If you're a Systems Integrator: Why you should invest in growing your material removal offerings
If you're a Manufacturer: Why you should invest in automating your material removal process, and questions to ask along the way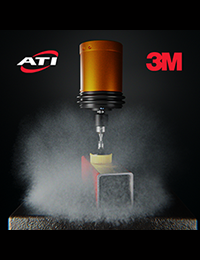 Exclusive Sponsor

3M is a trusted partner in abrasives automation. Our abrasive experts can help you optimize and achieve your automation goals, and our products are ideally suited for robotic applications. Why 3M? Work one-on-one with our experts: With decades of experience partnering with customers, system integrators and robot companies, we can help you navigate the automation process with confidence. Our experienced application engineers and sales teams provide support every step of the way. We work with our customers – at their facilities and ours – to help them achieve their production goals. 3M abrasives are optimized for robots: We have a wide range of belts, discs and wheels for the most common robotic applications, including Grinding & Degating, Deburring, Polishing, Weld Grinding and Finishing. Established global partnerships: We have a network of system integrators and can refer ones that would best help you with your process. We also have relationships with the top robot manufacture.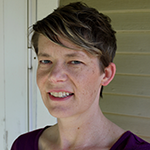 Sarah Mullins
Sarah began her 3M career in 2001 after graduating from University of California Berkeley with a PhD in Chemistry. She developed new materials in 3M's Corporate Research Laboratory and started with the Abrasives Systems Division in 2007. Her contributions to ASD include both process development and product development for 3M™ Cubitron™ II Abrasives. Currently, Sarah is an Abrasives Systems Division Global Application Engineer focused on designing robotic abrasive solutions for grinding, blending, sanding, finishing, and deburring of cast and forged parts.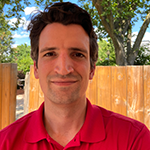 Tim Burns
Tim Burns joined ATI Industrial Automation in 2016 as a design engineer where he worked extensively with ATI's Robotic Deburring Tools and Tool Changers. He has since become an Applications Engineer in ATI's Material Removal Product Group where he focuses on identifying solutions for customers and developing product support programs. He is passionate about bringing material removal to ATI's diverse customer base and building partnerships with motivated integrators. Tim is a graduate of Duke University with a Bachelor of Science in Mechanical Engineering.
This webinar is filed under: