Webinars
Automated Abrasive Processing is Possible! Learn the Benefits and Steps to Start Your Abrasive Processing Automation Journey!
Originally Recorded February 28, 2023 | Noon - 1 PM ET
ABOUT THIS WEBINAR
Did you know that you can automate your abrasive processing? During this webinar, you will learn about how automation can help you reduce both labor and material costs and help you increase production. In this webinar, you will learn more about how you can start on your automation journey and see some of the emergent standardized solutions for weld grinding, sanding, and polishing applications.
Key Takeaways:
See automated abrasive processing examples in weld grinding, sanding, and polishing applications
Learn how to calculate ROI and articulate the benefits of a capital investment in automation
Hear from several emergent and established players in the industry that are helping solve common and unique abrasive processing challenges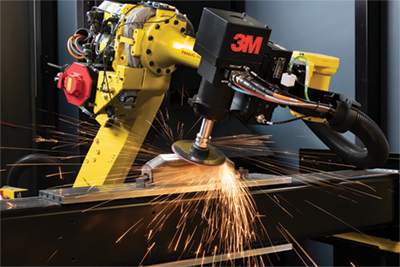 Exclusive Sponsor

3M is a trusted partner in abrasives automation. Our abrasive experts can help you optimize and achieve your automation goals, and our products are ideally suited for robotic applications. Why 3M? Work one-on-one with our experts: With decades of experience partnering with customers, system integrators and robot companies, we can help you navigate the automation process with confidence. Our experienced application engineers and sales teams provide support every step of the way. We work with our customers – at their facilities and ours – to help them achieve their production goals. 3M abrasives are optimized for robots: We have a wide range of belts, discs and wheels for the most common robotic applications, including Grinding & Degating, Deburring, Polishing, Weld Grinding and Finishing. Established global partnerships: We have a network of system integrators and can refer ones that would best help you with your process. We also have relationships with the top robot manufacture.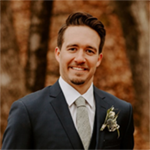 Tyler Naatz
Senior Global Application Engineer, Robotics & Automation
3M
Tyler Naatz is a Senior Robotics Application Engineer within 3M's Abrasive Systems Division where he is responsible for working with robotics industry members to engineer optimum robotic abrasive processes to support manufacturers as they look to expand automation within their facilities. Tyler is heavily focused in metal fabrication applications. These applications include weld grinding and processing, satin finishing, stainless steel finishing, deburring, and much more. After obtaining his B.S. in Plastics Engineering from the University of Wisconsin – Stout in 2015, he joined Flambeau Inc. where he worked as an Automation Engineer prior to joining 3M in 2018.
This webinar is filed under: