Schmalz Vacuum Expertise - Handling Blister Packs Efficiently
Process reliability during fully automated handling of blister packs largely depends on the packaging being gripped securely

This can be accomplished extremely well using special vacuum suction cups, particularly since there are handling solutions adapted to various requirements.
The advantages of blister packs are well known – but so are their disadvantages. The advantages include very good, hygienic product protection, the possibility of displaying the product and having an overview of the degree to which the pack is filled. Blister packs can be designed to be very marketable and user friendly, and can be handled fully automatically. On the other hand, the disadvantages include, for example, that the surfaces are often indented, which makes them difficult to grip, the sealing films are extremely thin (especially with pharmaceuticals), and the design surfaces used to display and present the products are very sensitive. Conventional mechanical, pneumatic, electrical grippers therefore usually reach their limits when it comes to handling products. A secure grip is often not guaranteed, especially in dynamic handling processes. In addition, using conventional grippers affects cycle times and the output of the film or blister packing machine. The technical and also economical alternative is vacuum suction cups from the vacuum specialists Schmalz. Schmalz offers a wide range of special vacuum suction cups for design engineers, manufacturers and users of blister pack machines and blister handling systems.

Corresponding to the requirements for packing and handling blisters and the products to be packed, the experts at Schmalz divide products into three categories: pharmaceuticals and dietary supplements (blister with sealing film), consumer products (blister with sealing card made of cardboard or plastic) and other consumer goods (double blister with a blister shell on top and underneath).

Film and paper suction cups for special purposes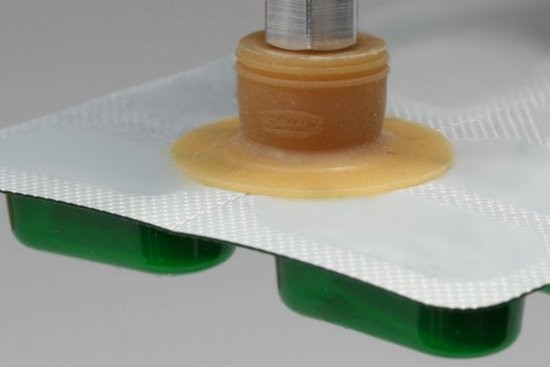 In the case of pharmaceutical and dietary supplement products, which usually have extremely thin sealing film, it is important that they are not drawn in or damaged in any way in the suction process or in the quick handling of the product. Schmalz recommends vacuum suction cups from the SGP series for this. They are made from silicon (SI) and natural rubber (NK), which are especially suited to handling thin film and paper. The soft suction cup materials, the special design with support in the interior of the suction cup, the tapered sealing lip and the extremely small stroke all ensure that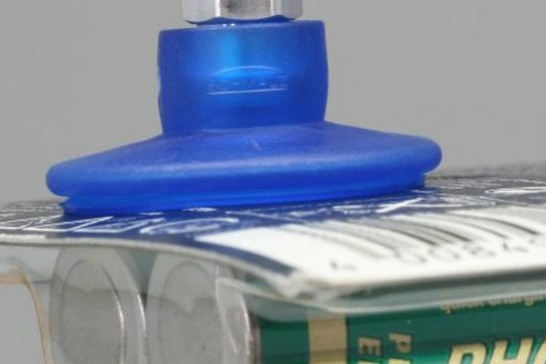 products can be picked up quickly and securely. This guarantees that no enduring deformation occurs when the workpiece is gripped. In addition, the flat design of the suction cup means that the interior volume is low. It can be evacuated quickly and allows minimal cycle times in the handling process.

Bellows suction cups for universal use
The universal vacuum bellows suction cups of the FGA/FG series are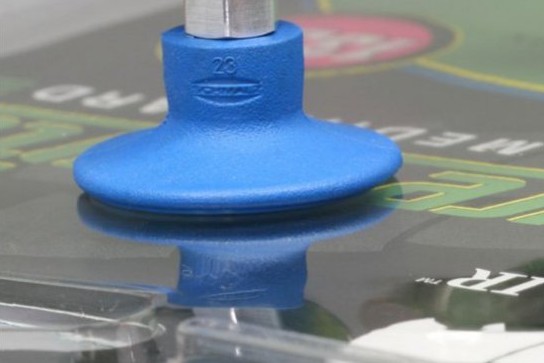 favoured for consumer products, which require many different kinds of blister packs – with or without blister paper, blister cardboard or blister plastic sheets. FGA/FG bellows suction cups are made from Perbunan (NBR), natural rubber (NK), silicon (SI) or PVC and are characterised by their ideal combination of maximum flexibility and durability. Perbunan is proven to be highly resistant to wear and tear, natural rubber adapts very well to rough surfaces and can be easily sealed, and PVC is extremely flexible and durable, even when handling products with abrasive surfaces. Materials and free design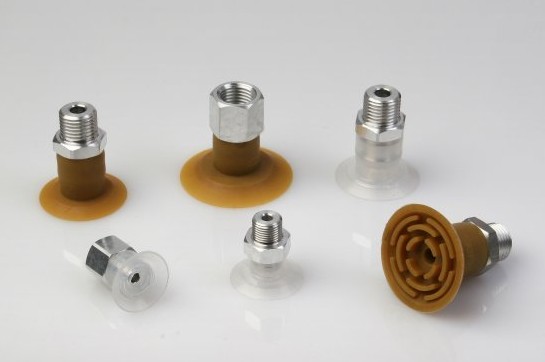 permit the suction cup shapes to be adapted to the needs, which is why there is a wide range of FGA/FG bellows suction pads, starting from 5 mm diameter.

Double blister for extremely transparent sales packaging
Other consumer goods also require extremely differing types of blister or display blister, which is why Schmalz has three families of vacuum suction cups in their range: round FGA/FG bellows suction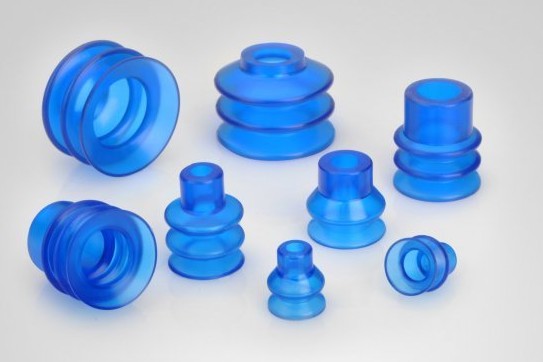 cups, round PFG flat suction cups, and oval SGO flat suction cups. All are made from HT1, which is heat resistant and does not leave marks. The demands on double blister are great as far as the transparency and shape of the high-gloss blister shells are concerned. In order to guarantee that the transparent surfaces look flawless so the products can be sold without limitations, the handling process must not leave any marks. The suction pads of this series are therefore made from silicon-free, heat-resistant and durable HT1, which is certified as low-marking. The suction pads are available in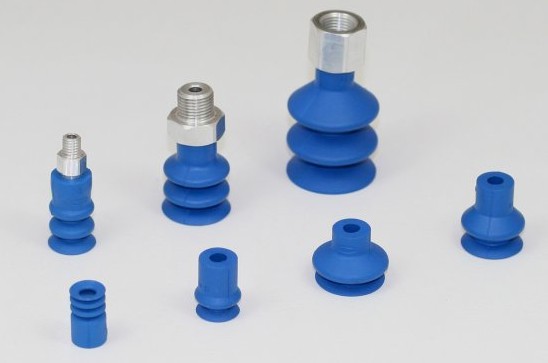 diameters ranging from 5 mm to 53 mm or as oval suction pads ranging from 4 x 2 mm to 75 x 25 mm.

In addition to delivering the product, Schmalz's service also includes consultation and analysis of the selection and design of the vacuum suction cups. In addition, the product range includes connection components, various systems for generating vacuum and vacuum components for controlling and monitoring. This means that Schmalz is able to offer vacuum equipment for product and blister handling from a single source.

Schmalz is the leading supplier of Vacuum Automation Components as well as Robotic and Gantry style Vacuum Gripping Systems. Schmalz supplies modularly constructed area and layer vacuum grippers for flexible handling of varying material properties, configurations and shapes - such as non-rigid cardboard boxes, plastic film and porous materials. Schmalz grippers can handle varying dimensions and undefined positions. The product range of Vacuum Components includes suction cups in (11) standard materials and cup lines for special industry needs, e.g. Automotive cups or cups for the Packaging industry. The product range also includes vacuum generators, mounting elements and system monitoring devices. Schmalz, founded in 1910 in Germany, is family owned and operated in third generation. Schmalz is one of the few positive-energy companies worldwide and has been rewarded for its sustainability several times. Schmalz is ISO 9001 and ISO 14001 certified for more than 10 years.

Schmalz Inc., founded in 1999, is the US-subsidiary of Schmalz. Located in Raleigh, NC, Schmalz Inc. has its own outside sales force and Authorized Schmalz Distributors in all states. Schmalz Inc. is committed to provide an outstanding and timely service nationwide.
Schmalz Inc.
5200 Atlantic Avenue
Raleigh, NC 27616
(919) 713-0880
www.schmalz.com