Preventative Maintenance: Keep Your Machines Safe and Production Moving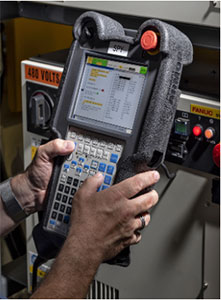 Teach pendants serve as the human-machine interface (HMI) for industrial robots and allow for safe and efficient movement around the production area. The robot teach pendants are integral to the functions performed by operators and repair technicians. Additionally, they display real-time information and increase safety since they are typically equipped with an emergency stop.
The handheld nature of the pendants creates a high risk for damage from falls and exposes them to more environmental conditions than a fixed terminal interface. Unpredictable situations are almost guaranteed in an industrial environment, no matter how careful an operator is. Handheld pendants are prone to both interior and exterior damage, most visibly cracked screens, damaged e-stop buttons, and broken hangers.
Adding teach pendant protection is a prudent option to reduce the risk associated with robotic processes. It is important to consider the environments the robot is subject to, including all potential hazards and their frequency of occurrence. The risk of damage correlates with the frequency of interaction and use of the pendant. Reducing risk within each process in turn reduces down time and protects production as a whole.
One solution to protect teach pendants from damage is an exterior case not unlike those used to protect modern smartphones. Guarding currently seen on production lines depends greatly on the manufacturer and robot. Current pendant protection varies from none, to hard plastic guards, to rubber corner bumpers. These methods don't provide sufficient pendant protection as manufacturing and robotic service companies can attest. They repair anywhere from a few hundred to 1,500 teach pendants annually.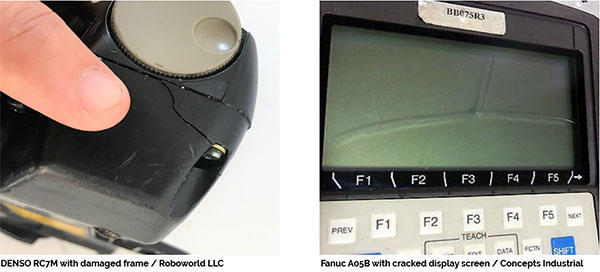 Typically, if a pendant is damaged enough to impede its function, an automatic emergency stop is triggered, taking the robot offline, which could interrupt the entire production process. Depending on the spare parts available, this could quickly result in significant financial losses. Companies such as ICR Services and Paragon Technologies service robot teach pendants. For simple repairs, pendants could be returned within a few days, but repair volumes fluctuate. Pendants often see turnaround times of 2-3 weeks. According to Daniel Wasinski at ICR Services, repair costs can range from $1800 to $2500. This is still significantly less than the cost of a new pendant, often over $6000 depending on the OEM. Bumpers greatly reduce the risk of damaging a pendant from mishandling or being dropped.

There are certain factors to consider when specifying the right bumper.
Shock absorption and impact strength: This may be basic material selection, but it is the primary reason to invest in pendant protection.
Chemical resistance: There are many types of grease, cleaning solvents, and other process chemicals which a bumper may come in contact with. The bumper's chemical resistance is important in maintaining the integrity of the material over time.
Ergonomics: The design should offer comfortable handling, aggressive texturing, weight-saving perforations, and drainage to keep the grip areas free from chemicals and fluids. It should minimize weight while maximizing protection and function.
Designed to accommodate features: A poor design could leave protruding switches, e-stops, and joysticks unprotected.
Finding the Right Material
Pendant Armor® by Roboworld® is the first mass produced, shock absorbing, chemical resistant bumper. The products are customized to the architecture of each OEM's teach pendants. Additional protective accessories such as screen protectors, non-slip feet and cable cuffs are available to augment protection when needed.
The Pendant Armor® bumper and hanger are each made with two highly durable materials. The pendant bumper, also referred to as the sleeve, is manufactured from Santoprene™ thermoplastic vulcanizate (TPV) which is shock absorbent and resistant to chemical exposure, temperature extremes, and harsh environments. It is textured and features with perforations that wick fluid from the pendant's grip areas, helping to facilitate grip.
The hanger is manufactured from high density polyethylene (HDPE), designed to combine with the bumper. Both accessories meet practical requirements for use in the industrial environment. Form and function are maximized, with an open back design to minimize both the material and weight. These ergonomic factors are important during long programming and troubleshooting sessions and when gloves are used in the production cell.
Another notable quality of the materials used is that Santoprene™ TPV and the HDPE used are both silicone-free. This is becoming an increasingly desirable characteristic in manufacturing environments since silicone has been recognized as a serious contaminant, particularly in painting and bonding/coating applications. Silicone can disrupt processes such as soldering, adhesive bonding, coating, and wire bonding, often resulting in surface defects and a poor-quality finish.
Custom Design, Testing, and Results
The Roboworld® team works directly with several industrial robot manufacturers to offer Pendant Armor® and other customized protective products as options specified during the purchasing process. These collaborations greatly benefit the customer. Universal Robot's CTO Esben Østergaard stated, "What we are now able to do is offer an online package that brings together the best protective suit makers, the best sensors, the best connectivity providers, and present them in a user-friendly way that delivers much needed service to global customers."
Protecting a robotic teach pendant in an industrial environment is as important, if not more, as using a case to protect a smartphone. A study conducted by NPD in 2013 revealed that 75% of smartphone owners have a case on their phone. Out of the 3,200 consumers sampled, 66% of android owners and 87% iPhone users use protective phone cases.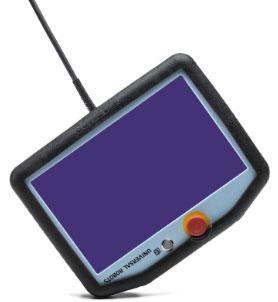 Customization is a growing trend in many verticals. Having the ability to accommodate any size and shape bumper can extend the life of new pendants and protect legacy equipment that might be outside of its warranty. Using CAD data and laser scanning, designs are made and tested to conform to the teach pendant without interfering with its operation.
Initial independent testing shows Pendant Armor® bumpers dampen shock between 50 and 70% depending on impact orientation, and the hangers were determined to withstand a peak load between 860 and 1010 pound-force (Ibf). This testing also shows that Pendant Armor® protects the most vulnerable exterior parts of the teach pendant and greatly reduces the amount of shock sustained in a drop or fall.
Teach pendant protection offers insurance to not only the pendant, but valuable production time and can help reduce the threat of unpredictable expenses. Universal Robot's Esben Østergaard says, "Roboworld® is a good example of the type of company that features within the UR+ ecosystem, in that it offers industry leading products," and partners with many manufacturers, integrators, and distributors for international availability.
No matter the OEM or work environment, protecting the critical interfaces for production-dependent robots is a crucial step and a wise financial investment.