Imaging Module PROFIL 1.0x Tele/Light HighRes
For High Resolution Bi-Telecentric Profile Measurement for Quality Control

Our design ethic at Opto is to deliver the best image for your application in the most efficient way possible. Our Imaging Module Profile innovatively combines telecentric optic in a compact design with easy system integration possibilities.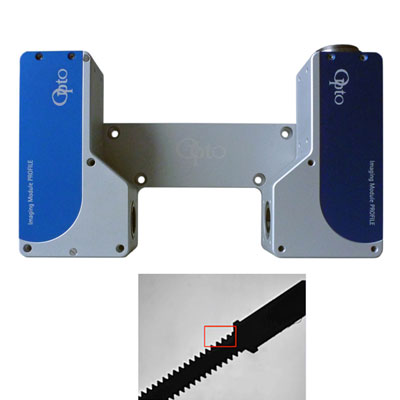 Imaging Module PROFIL creates high-performance thread images without any optical artifacts in contrast to a common telecentric measurement setup.
Both parts of the module are interlinked and adjusted over a correscponding mounting plate that fits to the Opto Accessories like stands, focusind units and tables.
Technical Features:
Magnification: 1.0x
Optimized for max. 1/1.8'' camera
Maximal resolution: 1.6 µm pixel with 11-megapixel camera
Field of view: 6.4 x 4.8mm with 1/2'' camera
7.2 x 5.3 mm with 1/1.8'' camera
Focal ratio: f/8
Distortion: <0.2%
Telecentricity: < 0.2°
Adapter: C-mount with adjustment for camera orientation
Telecentric light: blue LED, 465nm
Connector for LED: Binder series 712/702, 5-pin male
Forward current: max. 1000mA at 3.7V
Working space: 78mm
Accessories:
050-773S01GD01GB025 Connector cable illumination to power supply - 2.5m
043-700020 Power supply, dimmable
044-700113 Power cord - US 2m
044-700110 Power cord - EU 1.8m
044-700111 Power cord - UK 2m
044-700112 Power cord - CH 2m