DualStation Stereo Base with Inverse Microscope and Leica M80
Two high resolution magnification ranges in one scope
Reinventing microscopy with a unique easy to use ergonomic user experience. ?
Ultra-high contrast macro and micro imaging from the same instrument eliminates the need for 2 separate microscopes! ?
Designed for 'in chamber' biomed and cell analysis applications such as IVF and other cell engineering applications – no more transferring samples between workstations!
Fully compatible and retro-fittable to most leading stereo microscopes, and RFID antenna products
The stereo base contains an integrated LED illumination with Opto 'e-mirror' technology to flexibly adjust the brightness and contrast.

The 200x integrated inverse microscope features precision focus and an adjustable LED illumination with embedded phase contrast for perfect high contrast structural imaging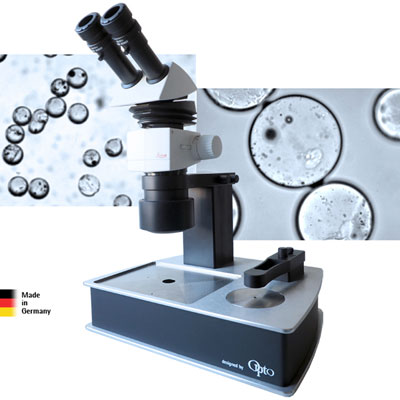 Technnical Features
Article number, base
045-100181
Stereo microscope stand with
Leica M80
Focus-objective magnification
1x
Working distance
90 - 110mm
Field of view with Leica M80, 10x/23 Ocular
2 - 20mm
Illumination
LED, e-Mirror Technology with adjustable brightness and contrast
Inverse microscope with included camera
5 MP
Camera connector
USB 3
Inverse microscope magnification
400x on 17'' monitor
Resolution
800 nm
Focus
adjustable
Field of view
0.8 x 0.6 mm
Illumination
LED Köhler-illumination, adjustable brightness and high contrast
Surface material
stainless steel
Ready for RFID-reader integration
About Opto
Since 1980, Opto GmbH has been a specialist developer and manufacturer of market leading optomechatronic modules, components and systems. Opto delivers solutions ranging from single vision components all the way to complex imaging modules and systems. Thanks to a comprehensive in-house manufacturing capability, Opto is able to meet any production demand – from rapid single unit prototyping all the way to serial production. Opto – solutions reduced to your needs.