Blog Post: Announcing the Launch of the New Motion Solutions Website
POSTED 06/21/2017
 | By: MOSO Marketing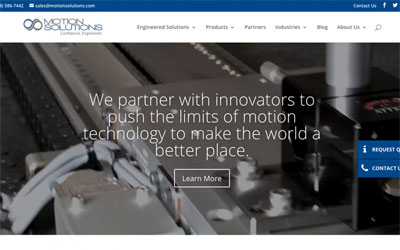 ALISO VIEJO, CA - Motion Solutions is delighted to announce the launch of our new website, MotionSolutions.com. This is not a redesign–we rebuilt the entire site from top to bottom. And it's not just a website, it's an invitation to get to know us better.
When customers come to visit our facilities, a common reaction is surprise at the depth and breadth of equipment, the volume of work underway, and above all the knowledge and skills of our team. We hope that a visit to the new MotionSolutions.com will give you a similar experience. We've stocked the site with technical insights, valuable product info, and information on how we can configure the right solution to meet your unique application needs.
We'd also like to invite you to preview our new video; Take a virtual tour of our facilities, learn more about our expertise, and meet key staffers, up close and personal. We value our customer partners and vendor partners alike, and look forward to working with you.
Drop us a line and let us know what you think of the site.