10 Key Considerations for Developing the Optimal Palletizing/Depalletizing Solution
Automating palletizing and depalletizing is far from one-size-fits-all. Applied Manufacturing Technologies shares tips and key considerations gleaned from decades of experience in creating robust robotic material handling solutions.
Material handling is a broad category of automation that can be as simple as moving parts from point A to point B, such as on a basic conveyor, or as complicated as a high-speed robot tending multiple conveyor lanes, sorting a variety of products (e.g. by type, customer, or order number), and building those products layer by layer into specific pallet patterns.
Two of the most common processes in material handling are palletizing – stacking boxes, cases, or finished product onto a shipping pallet for safe transportation, and depalletizing – removing items from a shipping pallet, also called singulation or decanting. Compared to having an operator complete these functions, palletizing and depalletizing are areas where automation can make a positive impact on the bottom line by offering significant cost savings while protecting operators from potential repetitive motion injuries.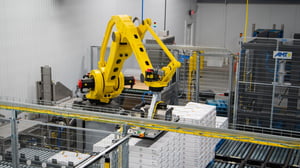 "AMT has a long history of successful material handling projects," said Vice President of Sales Rick Vanden Boom. "Two of our most recent projects had unique challenges and were very financially rewarding for our customers. They have been so successful that AMT has been contracted to complete multiple lines in multiple plants."
One of those projects was taking heavy cases of product from multiple production lines and sorting them by customer then by product and building pallets to ship to a customer to fulfill a specific order. One robot handles from one to several packages at a time, stacking them in a specific pattern on the pallet until it is full. The full pallet goes through a stretch-wrapping operation and then moves out to shipping docks to be sent to the customer.
Another recent project was handling a thermoformed (Styrofoam) product, with all the manipulation difficulties associated with that material. The pack out process was fed by a high-speed continuous-motion printing process. Once printed, the system created measured stacks and compressed them to a specific length before a robot created pallets of the product, then stretch wrapped and labeled them before they left to be staged for shipment.
In addition to projects that handle one or two types of products, AMT is involved with leading-edge development of the next generation of material handling systems. The newest systems are designed to solve limitations with existing technologies which have a difficult time handling multiple types of product on one system. Currently, the process of mixed-load palletizing – efficiently loading boxes of different sizes, shapes and weights onto shipping pallets – is fraught with difficulties. Many manufacturers currently use human operators for this function, which can be hard on the operators (ergonomics) and on the company's bottom line. With upstream automation in place in many facilities, the speed at which pallets must be loaded may require the use of what seems like an army of operators.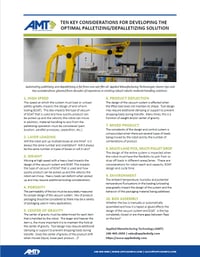 When designing palletizing automation for larger warehouse operations, there can be thousands of stacking combinations based on the size of the product. These projects require expert-level programming of the equipment's control system due to the large variation in the ways the robot is interacting with the product. Using preprogrammed algorithms, the robot will build interweaving patterns layer by layer (layer forming) to create pallet stability and most efficiently stack the product for shipment.
Mixed-load depalletizing – unloading boxes of different sizes, shapes and weights – also has inherent challenges. The many different items on the pallet may need to be sorted and distributed to separate locations, and there are complicated decisions to
be made that could be a struggle for an operator, especially if the line is running at high speed. Adding robotic depalletizing equipment to a facility such as this can often have a quick return on investment (ROI).
With nearly two decades of successfully completed robotic material handling projects under our belt, AMT has developed a methodical process for evaluating the unique parameters of each project to design the most cost-effective and efficient automated solution for our customers.