Members, login to get great discounts! 
Log In
A3 Store Product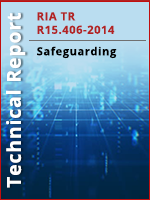 RIA TR R15.406-2014: Safeguarding (PDF Download)
TR 406 explains how to design a system of safeguards to protect human workers in an industrial environment that also contains robot system(s). This document supplements the Standard ANSI/RIA R15.06-2012: Industrial Robot Safety.
(TR R15.406 as published in 2014 continues to be the current active version.)
This report is a PDF download. If you would prefer hard copy of the report, please call +1 (734) 994-6088.
**Please note: You are purchasing a PDF version of a publication/document these items are Non-Refundable.