Members, login to get great discounts! 
Log In
A3 Store Product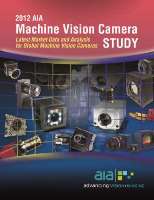 2012 AIA Machine Vision Camera Study
Long anticipated and much in demand, AIA's first ever study of the global market for machine vision cameras is now available for purchase. Unlike AIA 's annual MV market studies, which provided a limited analysis of camera sales, this new study of the worldwide MV camera market is highly detailed, broader in scope and yet clearly written for easy comprehension by time-pressed sales personnel and upper managers alike.
The study begins with a general description to define the landscape of this important market. It then builds on this description with a retail pricing analysis, a sales analysis and a trend analysis. All in all, the 66-page study consists of seven chapters, each of which provides a clear summary of findings with conclusions that cut through voluminous data. Click here to view the Table of Contents for this study.

Delivered as a digital PDF.