Members, login to get great discounts! 
Log In
AIA Machine Vision Camera Studies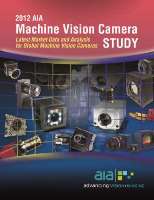 Long anticipated and much in demand, AIA's first ever study of the global market for machine vision cameras is now available for purchase. Unlike AIA 's annual MV market studies, which provided a limited analysis of camera sales, this new study of the worldwide MV camera market is highly detailed, broader in scope and yet clearly written for easy comprehension by time-pressed sales personnel and upper managers alike.
More Information and Price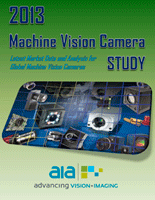 This NEW version of AIA's Global Machine Vision Camera Study builds upon the success of AIA's last study with fresh statistics and analyses for 2013. Utilizing the format of its predecessor, this study begins with a general description of the market, and then builds on this description with a retail pricing analysis, a sales analysis and a trend analysis. In total, the 68-page study consists of seven chapters, filled with up-to-date statistics on this dynamic market. Each chapter comes complete with a clear summary of the findings and a conclusion that helps synthesize and explain large amounts of market data.
More Information and Price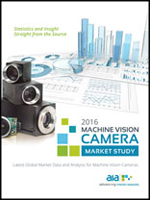 AIA's popular, affordable, Machine Vision Camera Market Study is back in this brand new edition for 2016! This study takes a deeper look at the trends, features, and statistics of this dynamic, growing market from a 2016 perspective. Purchase this study to receive data straight from the source: The world's leading machine vision camera manufacturers. This easy to read, data-rich report examines global machine vision camera market sales in terms of units and revenue. We break down the data by customer type, region, sensor type, interface, resolution, color, lighting, color, and more! Also included are analyses of pricing, interfaces, industries, and market trends, in addition to qualitative insight from manufacturers and users of machine vision cameras. Get your copy today!
More Information and Price