Technosoft Motion Technology Product
iMOTIONCUBE (1.6 kW, TMLCAN & CANopen)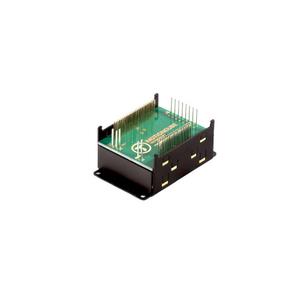 iMOTIONCUBE is an extremely compact drive that you can integrate in your design as a plug-in module. It provides a cost-effective solution for the control of rotary or linear brushless, DC brush, and step motors of powers up to 1.6 kW, with up to 80 V rated voltages.
Using as field bus either CAN or (in preparation) EtherCAT, iMOTIONCUBEs embed motion controller, drive and PLC features into a single unit. The CAN versions may operate as standard CANopen drives, or as intelligent drives that are able to execute complex motion profiles, programmed directly on the drive, with the high-level Technosoft Motion Language (TML). As an intelligent drive, iMOTIONCUBE can perform many of the central unit's tasks, eliminating the need for such a unit in many single-axis or multi-axis applications. The EtherCAT versions can also operate as standard EtherCAT drives (CoE protocol), or as intelligent slaves that are able to independently execute complex motion functions from the drive's memory.
Having 2 feedback connectors, iMOTIONCUBE can use both motor and load position in advanced dual-loop control algorithms that minimize the transmission backlash negative effects. iMOTIONCUBE has two STO (Safe Torque Off) inputs designed to meet category 3 (EN954-1), SIL3 (IEC61508 and 62061) and PLe (EN/ISO 13849-1).
iMOTIONCUBE drives can be quickly configured and tuned using either EasySetUp or EasyMotion Studio software platforms. EasySetUp is recommended when motion programming is done exclusively via an external device (a PC or PLC using Technosoft motion libraries, a CANopen or EtherCAT master), while EasyMotio Studio includes both drive setup and motion programming using TML.
Features
Sinusoidal (FOC) or trapezoidal (Hall-based) control of brushless motors
Open-loop or closed-loop control of 2-phase and 3-phase steppers
Position, speed and torque control
Motion modes: position and speed profiles; PVT & PT interpolated, electronic gearing and cam, external reference: analogue or sent via a communication bus
Motion programming via TML (Technosoft Motion Language) or via motion libraries for Windows (VC / VB / Labview), Linux and various PLC
Standalone operation of complete motion programs stored in the drive's memory
Communication:

RS-232, up to 115200 baud rate
CAN bus, up to 1Mbit, with TMLCAN or CANopen (CiA 301, 305 & 402) protocols

Digital and analog I/Os:

4 digital inputs: 5-36 V, NPN/PNP programmable
4 digital outputs: 5-36 V, 0.5 A, NPN open-collector
2 analogue inputs: 12-bit, 0-5 V

Safety: 2 Safe Torque Off (STO) inputs, Cat. 3 (EN954-1), SIL3 (IEC61508, IEC 62061), PLe (EN/ISO 13849-1)
Feedback devices (dual-loop supported):
1st Feedback:

Incremental quad encoder, RS-422 differential
Sine/cosine incremental encoder, 1Vpp differential
Digital Hall sensors

2nd Feedback:

Incremental quad encoder, single ended

Protections: over-current, short-circuit, earth fault, over- / under-voltage, I2t, control error
Other Products from Technosoft Motion Technology