Motion Controls Robotics, Inc. Product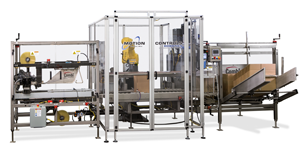 Today, robots are being used more frequently for case packing and palletizing to increase throughput and production, gain benefits of advanced vision technology, and realize cost savings.
Motion Controls Robotics, in partnership with Combi Packaging Systems, offers the flexibility of ergonomic hand packing, and automatic robotic pick and place case packing by integrating Fanuc robots with a new or existing Ergopack® hand packing stations.
Reasons for implementing robots into a manual case packing operation can include:
Efficiency – performs tasks that are difficult for humans
Safety – completes tasks that are unsafe for humans
Compliance with emerging regulations – to verify lot and expiration dates; serialization numbers
Flexibility – meets retail packaging variations including variable pack counts, variety packs, retail ready packages
Cost savings – replaces high wage labor
Other Products from Motion Controls Robotics, Inc.