Industrial Profile Systems Product
Belt-Driven Linear Actuator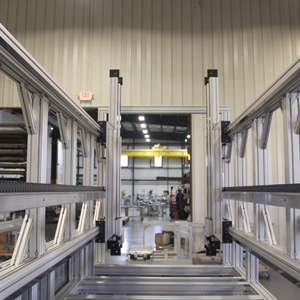 Belt-driven linear actuators from item North America are the perfect solution for conveyance and shuttle transport applications when trying to achieve high speed motion and long stroke lengths. Typical belt-driven linear actuator projects include: packaging machinery, laboratory automation, test fixtures, water jets, laser cutting applications, welding operations and other applications in which quiet operation, smooth motion, and consistency are a priority.
Working as a single axis, the belt-driven linear actuators are ideal for cutting operations, laser identification, pulling and stretching, or high speed placement of parts. Belt-driven linear actuators designed by item North America can be combined to create XYZ configurations suitable for a wide range of multi-axis linear motion applications.
Multi-axis applications of belt-driven linear actuators are extensive. Typical projects include 0a range of material handling operations which can require moving loads left, right, up and down from a home position. Overhead gantries are a common application for belt-driven linear actuators up to and exceeding 100 feet in length.
Are belt-driven linear actuators from item North America a suitable fit for your application?
Repeatability of +/- 0.15mm (+/-0.005 inch)
Positional accuracy of +/- 0.45mm (+/-0.017 inch)
Breakaway torque is application specific
Maximum speeds of 10 meters per second
Stroke length from six inches to 100+ feet. Greater lengths are available but should be discussed with an expert from item North America
Loads from a few ounces to thousands of pounds depending on load orientation
item North America's engineering team can integrate linear motion into our structural aluminum extrusion framing, allowing for the motion and safety hard guarding to be designed and delivered as a single unit.
Other Products from Industrial Profile Systems