KUKA Robotics Corporation Product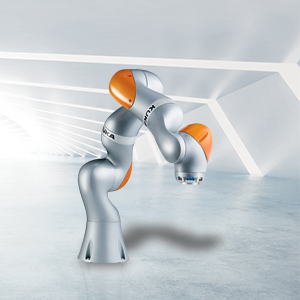 The LBR iiwa is entering a new chapter for industrial robots when it comes to human-robot collaboration. LBR stand for "lightweight robot' and iiwa stands for "intelligent industrial work assistant." This is KUKA Robotics first series of sensitive robots suitable for human-robot collaboration in a variety of applications.
The LBR iiwa is available in two different payloads: 7kg and 14kg with coordinating reaches of 800mm and 820mm. Both models have integrated, sensitive torque sensors in all seven axes giving the robot contact detection capabilities and programmable compliance to avoid collisions. This feature guarantees maximum safety and completely eliminates the need for expensive, space-intensive safety fences. The torque sensors even enable the automation of delicate assembly tasks for force-controlled joining operations and process monitoring.
The LBR iiwa masters a wide range of automation tasks thanks to its extreme flexibility. The robot can move around disruptive contours and reach positions that are difficult to access. With the LBR iiwa being able to work safely with humans, the robot can be manually guided, making it easy to program and perfectly suited for operations in variable locations or on a mobile platform. This collaborative robot can even be mounted to the floor, wall, or ceiling for greater range and full optimization of the workspace.
Other Products from KUKA Robotics Corporation