KUKA Robotics Corporation Product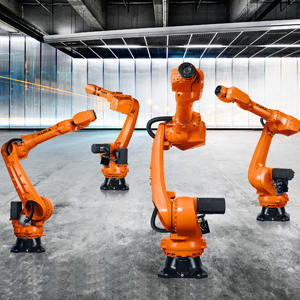 The KR IONTEC is the perfect robot for every task in the medium-payload range that can be used in any installation position – on the floor, on the wall or inclined. The option of converting the payload capacity of the installed robot from 30 to up to 70 kg also makes it extremely flexible. Furthermore, with a maximum reach of 3,100 mm, the KR IONTEC has the largest work envelope in its class. The reduced space requirements of the robot, with a 30 percent smaller footprint and a 10 percent more streamlined disruptive contour, additionally enable a more compact cell design.
The KR IONTEC also features the lowest maintenance requirements in its class. Due to the reduced energy consumption, resulting from the improved drive technology and decreased weight of the robot, the running costs are also lower. The KR IONTEC excels in terms of TCO and life cycle efficiency. Technical availability is over 99 percent and the mean time between failures is around 400,000 hours of operation.
The KR IONTEC is ready to use in both conventional and digital production worlds and is equipped with various Motion Modes. These software add-ons can be used to adapt the robot flexibly to different production processes at the press of a button: Performance Mode ensures high performance, dynamics and efficiency as standard. Path Mode enables exact continuous-path motion with absolute accuracy and precision. Dynamic Mode can be used to minimize cycle times.
Other Products from KUKA Robotics Corporation