FerRobotics Inc. Product
Active Angular Kit XS
Model: AAK/401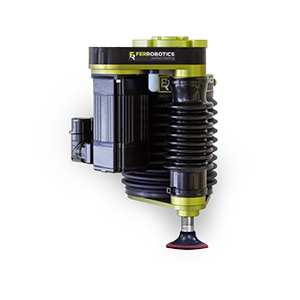 INTEGRATED GRINDING SOLUTION FOR TEXTURED SURFACE TREATMENT
The AAK XS is a finely tuned system package based on the Active Compliant Technology (ACT) and an angle grinder optimized for robot use. This integrated complete solution automates the industrial grinding process with individual control of all process parameters: rotation speed, contact force and feed rate. The AAK XS is developed for minor material removal and offers the highest process quality from a single source. The system design is compact and light. The enormously durable grinder is designed for industrial use and delivers twice the output of standard devices, 24 hours a day, 7 days a week.
Surface treatment: Grinding, polishing, cleaning, deburring
All materials: Steel, aluminum, titanium, magnesium, carbon, plastic, wood, ceramic, coconut fiber…
GLOBAL NOVELTY
Grinding package solution for Industry 4.0
• User-friendly industrial package solution
• Robot-compatible grinder combined with all the benefits of ACT system cooperation
• For all industries and materials
Quick, flexible, safe
• High performance and functionally optimized system for immediate integration
• Rapid job modulation directly by the end user
• Optimal functionality, productivity and process reliability
Control of all process parameters
• Contact force on the surfaces in an integrated system solution
• Feed rate of the robot
• Rotation speed of the angle grinder
Top quality
• Precisely even surface texture thanks to a process-optimized package solution
• No post-processing
• The highest quality level 24 hours a day, 7 days a week
Compact and simple - Precise application of force - Devices are artificially conditioned
rdercode
AAK/201
Max. force (push/pull) [N]
100
Stroke [mm]
35.5
Dimensions [mm]
Max. 220 x 194 x 258.2
Bolt circle ISO 9409-1-80-6-M8 standard flange ø80
Dead weight [kg]
~ 7
Power supply
• 24 V (DIN-track)
• 380 - 500 V AC (frequency inverter)
• ø8 mm air supply
Max. 7 bar, 30µm, ISO 8573-1 Kl.3 (oil & water free)
Max. speed [rpm]
10,000
Motor power (S3) [W]
597
Motor peak power (S2) [W]
785
Grinding disc
M14 drive Spindle thread: fits up to ø4.5" (ø115 mm), with ø22.2 mm (ø7/8") drill-hole
Air consumption [l/min]
5 - 10
Ambient temperature during operation [°C]
+5 … +45
Protection class
IP65 / if equipped with adequate filters
Other Products from FerRobotics Inc.