CoastIPC, Inc. Product
Industrial-grade edge AI platform supporting dual NVIDIA® Tesla T4 and Intel® Xeon® E and 9th/ 8th-Gen Core™ processor
Model: Nuvo-8240GC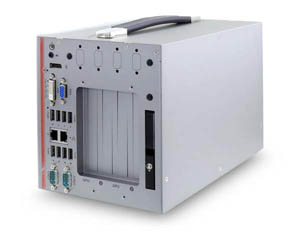 Key Features:
Supports dual NVIDIA® Tesla T4 GPU
Supports Intel® Xeon® E or 9th/ 8th-Gen Core™ i7/ i5 LGA1151 CPU
Up to 128GB ECC/ non-ECC DDR4 2133 (4x SODIMM)
Two x8 (4-lanes), Gen3 PCIe slots for add-on cards
1x M.2 M key, 1x M.2 B key and 2x full-size mini-PCIe sockets
8~48V wide-range DC input with built-in ignition power control
Proven thermal design for -25°C to 60°C rugged operation*
Patented damping brackets* to withstand 3 Grms vibration
*R.O.C Patent No. M491752
*R.O.C Patent No. M491752
---
Nuvo-8240GC is a rugged edge AI platform designed specifically to support dual NVIDIA® Tesla T4 for advanced inference acceleration applications. It features NVIDIA multi-precision Turing Tensor Cores offering tremendous GPU power up to 130 TFLOPS in FP16 and 520 TOPS in INT4 for emerging GPU-accelerated edge computing and advanced AI inference. In addition, Nuvo-8240GC is powered by Intel® Xeon® E or 9th/ 8th-Gen Core™ CPU up to 8-core/ 16-thread coupled with workstation-grade Intel® C246 chipset to support up to 128 GB ECC or non-ECC DDR4 memory.
The system incorporates one internal 2.5" SATA HDD/ SSD slot and one hot-swappable 2.5" tray for easy HDD/ SSD replacement. There is also an M.2 2280 NVMe SSD socket for ultimate disk performance. Its front-accessible GbE and USB 3.1 Gen1/ Gen2 ports feature screw-lock mechanisms for secure cable connections. In addition to the dual x16 PCIe slots (8-lanes) for Tesla T4 installation, Nuvo-8240GC has another two x8 PCIe slots (4-lanes) for expansion cards to extend function sets, making it that much more flexible for specific applications such as data collection, analytics, and communication.
Nuvo-8240GC has a brand new power delivery design to accept 8~48V wide-range DC input with built-in ignition control. Mechanical wise, Nuvo-8240GC incorporates Neousys' proven heat dissipation design, damping brackets* for withstanding 3 Grms vibration, making it steady and rock-solid in various conditions. The Nuvo-8240GC is Neousys' response to the never-ending performance demand in industrial edge AI platforms and now with double the inference power, Nuvo-8240GC is ready to take it to the next level.
Supporting Intel® Xeon® E and 9th/ 8th-Gen CPU (LGA1151 socket)
Xeon E 2176G/ 2278GE (8C/16T) / 2278GEL (8C/16T)
i7-9700E/ i7-9700TE/ i7-8700/ i7-8700T
i5-9500E/ i5-9500TE/ i5-8500/ i5-8500T
i3-9100E/ i3-9100TE/ i3-8100/ i3-8100T
Other Products from CoastIPC, Inc.