Andantex USA Inc. Product
The ANGLgear line of bevel gearboxes has proven its performance for over 40 years.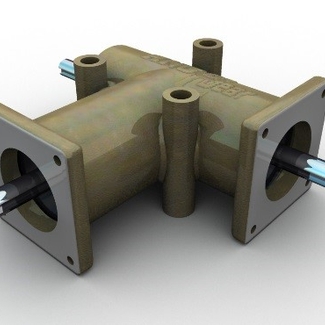 The ANGLgear line of bevel gearboxes has proven its performance for over 40 years. It was developed to provide manual or power transmission of rotary motion in a compact, standardized right-angle unit. Each ANGLgear is manufactured at our factory in Wanamassa, NJ, USA. All units are inspected and tested to ensure proper operation at the rated speeds. The ANGLgear name is widely recognized and the product is in use worldwide. We also offer a line of metric ANGLgears for use in designs needing metric shaft diameters and mounting surfaces. Utilizing carburized case-hardened Coniflex* bevel gears, all ANGLgear units employ completely enclosed and sealed ball bearings and are lubricated for life. The cast aluminum housings are precision machined, and use flanged ends and side bosses for compact installation in a wide range of applications. Special and/or modified units are our specialty! At Andantex USA, we will modify our standard designs to fit your design specifications. For more information about our special gearboxes, refer to page 10 or consult the factory. Our Sales and Engineering departments are ready to help you with your specific application requirements.
*Trademark – The Gleason Works, Rochester, NY
ANGLgear Quality Specifications for both Inch and Metric Series:
Every ANGLgear manufactured is tested to meet our quality specifications and are 100% inspected prior to packaging. This process ensures a consistent quality of our gearboxes, and filters out units that might become a problem if installed in an application.
BACKLASH
Each unit is checked for its gear mesh backlash to ensure it is within the prescribed backlash range. For Size 1, the backlash range is 1/4° to 3/4°. For Sizes 2 through 5, the backlash is 1/8° to 1/2°. For specialapplications requiring reduced backlash, please consult the factory.
MILITARY SPECIFICATIONS
Andantex USA meets MIL-I-45208A for Inspection System Requirements. We can conform to military contracts specifying various MIL-SPEC requirements.
NOISE LEVEL
Experience has proven that noise level testing and inspection provide an accurate indication of operational efficiency. All ANGLgear units are tested to meet the following maximum noise levels for acceptance:
Size 1 – R3000/R3003: 73 dB
R3100/R3103: 74 dB
Size 2 – R3200/R3203: 77 dB
R3300/R3303: 78 dB
Size 3 – R3330/R3350: 89 dB
Size 4 – R3400/R3500: 89 dB
Size 5 – R3570/R3590: 89 dB
LUBRICATION
ANGLgear units are lubricated for life. All models are lubricated with Exxon Beacon 325 grease, having an operating temperature range from -65°F to +200°F (-54°C to +93°C). Different greases can be supplied upon request.
BEVEL GEARS
All gears in the ANGLgear product line are cut using the Gleason Generating System to a AGMA Quality Class 9. This system develops straight bevel Coniflex tooth profiles, which are crowned at the center of the tooth. This allows for better tooth meshing, and operating pitchline velocities of over 1000 feet per minute. All gears are then carburized case hardened to ensure a long operating life.
BEARINGS
There are four ball bearings in each ANGLgear unit. Each bearing is packed with Exxon Beacon 325 Grease and sealed with two Buna-N seals. The bearings are lubricated for life. Special seals such as Viton and Teflon can be provided for high temperature applications.
HOUSING
The housings are aluminum alloy castings. Each housing is precision machined on our CNC machining center and then coated with a chemical film to protect the material. We can offer special materials and coatings for further protection in corrosive environments, and special machining for precision mounting and alignment.
SHAFTS
The shaft material for Sizes 1, 2 and 3 is #416 stainless steel. **On 2:1 models, the pinion shaft is cadmiumplated carbon steel. For Sizes 4 and 5, the shaft material is black-oxide carbon steel. We can offer a variety of materials and treatments to meet your design specifications. Shafts can be provided with special extensions (with flats, splines, holes, etc.) and/or specific lengths upon request.
Other Products from Andantex USA Inc.
Incorporation of this automatic lubrication system on the seventh axis provides the following benefits: The correct amount of lubricant is applied to the lubrication point and eliminates the possibility of over lubrication or under lubrication when lubricant is applied manually. Correctly lubricated gears and bearings provide reliable operation and avoid downtime which can hold up production. The system provides the minimum amount of lubricant required to insure correct lubrication. This av