AEON Imaging Product
AEON Camera Calibrator ACC4
ACC 4 sensors up to 18 mm diameter, C and S-mount, up to 4 light colors, including EMVA 1288 software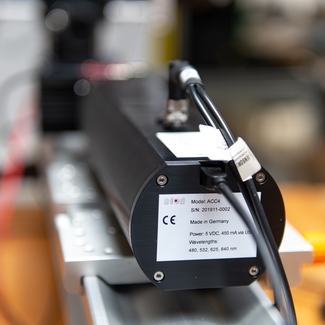 Accurate measurements according to EMVA 1288 - easy and affordable
AEON offers customizable test equipment in two sizes, one for standard sensors and the other for sensors with diagonals up to 80 mm. Both are modular and complete turn-key systems with customizable LED light sources and all required evaluation software based on AEON's powerful heurisko® image processing software running on Microsoft Windows. A heurisko® Developer license is included.

The whole set of measurements is conducted automatically after measurement configuration. Following completion of measurements, a datasheet can be generated automatically. Batch processing and integration into other software environments are possible.
Key features
Largest sensor diameter
18 mm (1.1" sensor)
Standard camera adaptors
S, CS, C
Light source
Pulsed or current controlled LEDs
4 colors, one intensity level
Ø 21 mm
Not exchangeable
Wavelengths
Standard
VIS-NIR: 470, 520, 630, 850 nm
SWIR: 1050, 1200, 1300, 1550 nm

Other wavelength combinations on request
(range 405 - 1550 nm).
Calibration
Split optical path with built-in calibrated photo diode.
For increased dynamic range measurements
Tray for easy insertion of neutral or polarization filters
Overall dimensions (L x W x H)
297 x 79 x 70 mm
Control interface
USB 2.0
External power supply
None (5 VDC, 450 mA via USB)
Measurements
The ACC systems conduct all measurements required by the newest release of the EMVA 1288 standard.
The systems do not measure temperature dependency of the dark current and spectral dependency of the quantum efficiency. These measurements are optional because they require special equipment that would increase the effort considerably.
Linearity, noise, and sensitivity
According to the standard, these measurements are usually performed with monochromatic green light for monochrome cameras and with blue, red, and green light for color cameras at 50 irradiances at least and at darkness. If the camera features at other wavelengths are of interest, an ACC can also be equipped with these colors.
Spatial non-uniformities
With only a few illumination steps, mean and variance of each individual pixel are computed by averaging at least 100 images. With these data it is possible to analyze the spatial non-uniformities of the dark image and of the sensitivity of the sensor.
Dark current
The dark current is determined by taking many images at different exposure times without any illumination.
Derived quantities and data sheet
From these measurements, the following parameters are derived:
Absolute gain factor
Absolute sensitivity threshold and saturation capacity
Maximal signal-to-noise ratio
Dark noise
Dynamic range
Non-linearity
Spatial inhomogeneity of the dark image (dark signal non-uniformity, DSNU) and of the sensitivity (photo­response non-uniformity, PRNU)
Quantum efficiency at the wavelengths of the ACC light source
Measurement results are provided as diagrams in PDF format and as tables in CSV format. Images of the DSNU and PRNU are provided in PNG format. All essential intermediate results are stored for repeated evaluation. Data can be used to automatically generate a data sheet complying with the standard.
Hardware
The ACC is a modular optical system, which is described in more detail in the following. Please refer also to the table above.
The optical system consists of a tube system with interchangeable optical components including a homogeneous light source and a standard camera mount such as Nikon F mount, C mount or M72. (From the camera's point of view, the ACC mount looks like a lens mount.) The length of the tube is determined by the diameter of the light source, as determined by the standard. The system is light-proof; no need for dim-out of light.
All light sources are current-controlled LEDs. Current is controlled digitally with 12-bit resolution. The irradiation of the image sensor can be varied either by changing the LED current at constant exposure time or by changing the exposure time of the camera at constant LED current or by using the pulse mode of the light source. The first two methods make measurements simple because it is not necessary to trigger the camera or the light source. The camera just needs to be connected to the computer for grabbing images.
The whole system is controlled by a computer via a single USB connection.
Other Products from AEON Imaging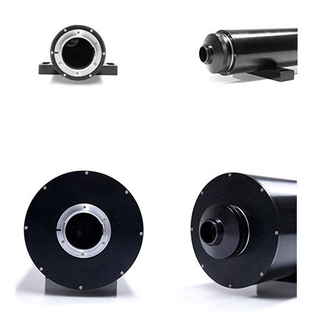 ACC 2 with F- and C-mount, sensors up to 80 mm diameter with customized camera mount, 4 or 8 colors