Adaptive Vision Sp. z o.o. Product
Adaptive Vision Studio

Adaptive Vision Studio is the most powerful graphical software for machine vision engineers. Based on data-flow, it does not require any programming skills to complete both simple & complex machine vision projects.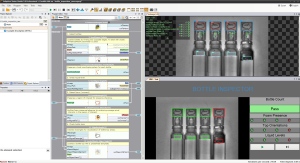 It is highly interactive and scalable – with a couple of filters the user can accomplish a typical industrial application, yet there are systems in the field running hundreds of tools, composed of many modules and armed with automated tests based on thousands of images. The product comes with a comprehensive library of image analysis tools optimized not only for their effectiveness, but also for the highest flexibility and usability. This encompasses fine-grained encapsulation, extensive parametrization and diagnostic outputs – the must-have features for real world applications.
Learn more about Adaptive Vision Studio at: https://www.adaptive-vision.com/en/software/studio/
General overview of Adaptive Vision Studio workflow & capabilities.
Other Products from Adaptive Vision Sp. z o.o.
Adaptive Vision Library is a powerful machine vision library for C++ and .NET programmers.