Zero-Backlash Servo Rotary Indexing Table from Sankyo Automation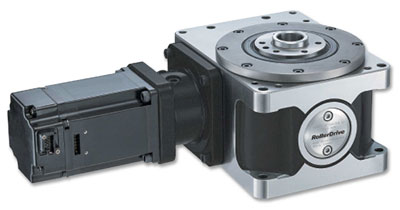 The Sankyo Automation RollerDrive® Reducer is a precision gear reducer that uses a zero backlash roller gear mechanism. The unit is constructed from an input shaft and a turret (output shaft) that is assembled with roller followers. The roller followers are preloaded against a screw-like input shaft to eliminate backlash.
Sankyo servo indexing tables offer a constant lead cam with a servo motor drive for programmable motion. Sankyo servo indexing tables provide fast highly accurate motion, with the added capability to move medium to heavy loads. The preloaded cam & turret provides a high performance zero-backlash servo indexing table for all your automation needs.
The RU Series servo indexing table is available in 11 different sizes. These servo indexing tables come with varying ratios to maximize the motor's torque capacity, speed requirements and enhance the overall accuracy. Special applications may require double reduction ratio of the internal cam and an additional reducer to provide large torque capacities or slower speed.
Features include:
Zero-Backlash -The RollerDrive uses a unique preloaded mechanism to completely eliminate backlash and deliver output motions that are faithfully true to input commands
Design -RollerDrive technology incorporates a cam with a high gear reduction to deliver large torque capacities with smaller servo motors
Second Reducer Option -Multiple reducer options keep the servo at optimal RPM speed
Rigidity Suitable for Machining Applications -An exclusive ouput turret bearing and cast-iron housing toleratres heavy vibrations associated with machine tool applications
Versatile for Retooling -RU Series can keep pace with the ever-changing tooling requirements
Short settling times – The RollerDrive provides fast highly accurate dynamic motion