Zebra2 Camera Line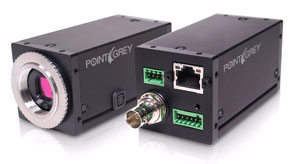 Point Grey, one of the world's largest and most innovative providers of high performance digital cameras, today announces a breakthrough in innovation with its new multi-interfaced Zebra2 camera line. The Zebra2 fulfills a growing demand in traffic and surveillance installations that require real-time viewing in addition to post-processing such as ALPR/ANPR and incidence analysis. Available in both 2 MP and 5MP CCD models, the Zebra2 provides the unique ability to simultaneously stream low latency uncompressed video over HD-SDI as well as send compressed or uncompressed images through a Gigabit Ethernet interface.

The Zebra2 boasts a second breakthrough innovation with a new proprietary image processing pipeline. Designed to capture high quality, color rich images in a variety of dynamically lit indoor and outdoor environments, Point Grey's new image processing technology maximizes image quality through advanced noise reduction, tone mapping, and color interpolation techniques. The new image pipeline combined with Sony CCD imagers allows the Zebra2 to capture crisp images of fast moving objects.

Like all Point Grey cameras, the Zebra2 is supported by Point Grey's FlyCapture SDK. Third party software compatibility is provided through standard protocols including: Real Time Streaming Protocol (RTSP), GigE Vision, and ONVIF.

"Currently, our customers use two separate cameras; one to view low-latency live feed and one for image processing," explains Michael Gibbons, Director of Sales and Marketing. "With the Zebra2, these two needs are fulfilled with a single, high quality camera at an unbeatable price point," adds Mr. Gibbons.

The Zebra2 ZBR2-PGEHD-20S4C-CS (color) model utilizes the Sony ICX274, 1/1.8" CCD producing 1600 x 1200 at 30FPS and is list priced at USD $1495. The ZBR2-PGEHD-50S5C-CS (color) model utilizes the Sony ICX625, 2/3" CCD producing 2448 x 2048 at 15 FPS and is list priced at USD $2995. Both models are available to order now from Point Grey, its network of distributors, and (for North American customers) www.ptgreystore.com.

About Point Grey
Point Grey Research, Inc. is a worldwide leader in the development of advanced digital camera technology products for machine vision, industrial imaging, computer vision, and traffic and surveillance applications. Based in Richmond, BC, Canada, Point Grey designs, manufactures and distributes USB 3.0, Gigabit Ethernet, and IEEE-1394 (FireWire) cameras that are known for their excellent quality, performance, and ease of use. A broad range of hardware, software and mechanical engineering skills has allowed Point Grey to successfully bring many innovative and ground-breaking products to market. This drive for innovation has led to many industry firsts, including the world's first and smallest 1394b digital camera, the smallest GigE camera and the first and smallest USB 3.0 machine vision camera.

Since its founding in January of 1997, the company's approach to product pricing, quality control, and customer service has attracted thousands of customers worldwide, and its organic growth through product sales has enabled the company to expand significantly without any outside investment. Point Grey currently employs more than 130 people worldwide and has a wholly-owned German subsidiary that provides sales and support services to customers in Europe, Africa and Israel. The company also has a strong network of distributors in Japan, Korea, China, Singapore, Taiwan, United Kingdom and Ireland.