Yaskawa Smart Series Product Line is Ideal for New Robot Users: Enables Fast and Easy Implementation of a Robot System
Dayton, OH — Introduced specifically for manufacturers branching out into robotics, the new Smart Series suite of products allows quick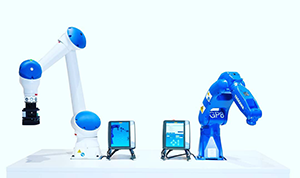 and easy implementation of a robot system. The Smart Series product line includes Yaskawa's HC10DT, MotoMini, GP7, GP8 and GP12 robots as well as the Smart Pendant and the YRC1000micro robot controller.
Unlike traditional more complex robot execution that requires significant upfront investment in training, Smart Series technology offers simple, intuitive robot programming methods for novice users.
The industrial strength HC10DT (direct teach) robot offers four modes of collaboration, including Power and Force Limiting (PFL) technology to protect workers from potentially harmful contact situations. It features hand-guided teaching for fast deployment or redeployment on demand, and it is easily integrated with existing automation.
Weighing only 7 kg, the MotoMini is the industry's smallest and lightest six-axis robot. It is easy to carry and ideal for tabletop-, floor-, ceiling- or wall-mount installations, saving valuable floorspace.
Compact and efficient, the GP7, GP8 and GP12 robots offer exceptionally fast axis speeds and acceleration capabilities to reduce cycle time and increase production output. The GP7 and GP8 robots feature an IP67 rating with an easy-to-clean surface; each model offers an NSF-H1 certified food-grade lubricant option. The GP12 robot has an IP67-rated wrist and IP54 body (IP65 optional).
Easily connected to peripheral devices, the ultra-compact lightweight YRC1000micro is the smallest robot controller in its class. A space-saving design enables installation in either a vertical or horizontal position, as well as within a 19-inch rack.
The easy-to-use, tablet-based Smart Pendant radically changes the way a robot is programmed, providing simplified yet powerful programming for fast and efficient implementation. Providing a simple learning curve for novice robot users, Smart Pendant's built-in Smart Frame technology allows the robot to adapt to the programmer's position, eliminating the use of conventional coordinate (X, Y, Z) frames while enabling user-friendly operation.
Ideal for a variety of inspection, machine tending and other handling applications, Smart Series products are easily adaptable to changing manufacturing requirements and can readily be redeployed.
Smart Series products are available through Yaskawa's authorized Smart Series Distributors.
About Yaskawa Motoman
Founded in 1989, the Motoman Robotics Division of Yaskawa America, Inc. is a leading robotics company in the Americas. With over 400,000 Motoman® robots installed globally, Yaskawa provides automation products and solutions for virtually every industry and robotic application; including arc welding, assembly, coating, dispensing, material handling, material cutting, material removal, packaging, palletizing and spot welding.