Yaskawa Motoman Robots Participate in NASA Teleoperation Test to Develop Robotic Refueling Technologies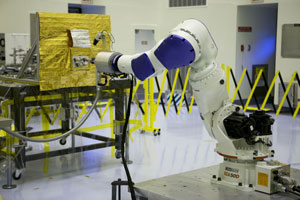 Dayton, OH — Yaskawa Motoman is pleased to announce that NASA recently selected its Motoman® SIA50 seven-axis robots for use in a teleoperation demonstration. NASA's Satellite Servicing Office (SSCO) is developing technologies and capabilities for ongoing maintenance of on-orbit satellites. Their February 2014 Remote Robotic Oxidizer Transfer Test (RROxiTT) successfully demonstrated the ability to robotically transfer oxidizer to a satellite valve in flight-like conditions with the teleoperated commands being sent over long distances.

The actual robot was located at Kennedy Space Center but controlled from Goddard Space Flight Center in Greenbelt, MD, a distance of over 800 miles. "The latency introduced by control from this distance adds complexity to the task," says Alex Janas, the lead robotic operator for RROxiTT.

Added Erik Nieves, Technology Director for Yaskawa Motoman, "NASA's operations require a very low level interface to the robot servo system. Yaskawa Motoman's control architecture provided NASA with the necessary performance to carry out this important mission."

"While RROxiTT is aimed at solving a problem in space, the implications of this technology for remote teleoperation technology for Earth-bound operations should not be overlooked," says Brian Roberts, Robotic Demonstration and Test Manager at the Goddard Space Flight Center. "There are many applications handling biohazards, fissile material, or other substances where robotic teleoperation offers the promise of improved human safety."

For more information about SSCO or RROxiTT, visit www.nasa.gov.

Image courtesy of NASA.
About Yaskawa Motoman
Founded in 1989, the Motoman Robotics Division of Yaskawa America, Inc. is a leading robotics company in the Americas. With nearly 300,000 Motoman® robots installed globally, Yaskawa provides automation products and solutions for virtually every industry and robotic application; including arc welding, assembly, coating, dispensing, material handling, material cutting, material removal, packaging, palletizing and spot welding. For more information please visit our website or call 937.847.6200.